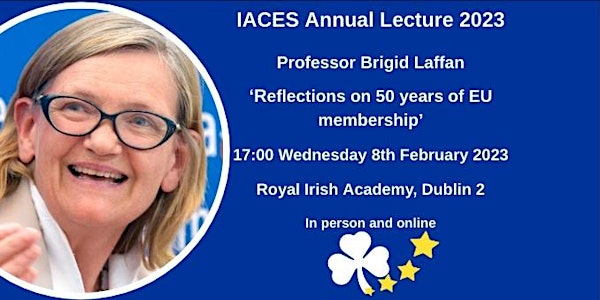 IACES Annual Lecture: Professor Brigid Laffan European University Institute
IACES' Annual Lecture 2023 will be delivered by Professor Brigid Laffan, Emiritus Professor at EUI. Register to attend in person or online.
By Irish Association for Contemporary European Studies
When and where
Date and time
Wed, 8 Feb 2023 17:00 - 19:30 GMT
Location
The Royal Irish Academy 19 Dawson Street Dublin Ireland
About this event
**This is a hybrid event. You can register via this Eventbrite to attend the lecture in person or remotely, via livestream.**
IACES Annual Lecture
Delivered by Professor Brigid Laffan, Emeritus Professor at the European University Institute on Wednesday 8 February at 17:00.
Venue: Online and in person at the Royal Irish Academy, 19 Dawson St, Dublin 2
Brigid Laffan: reflections on 50 years of EU membership
In this year's IACES Annual Lecture, Professor Laffan will reflect on what 50 years of EU membership has meant for Ireland and the challenges which lie ahead. Ireland has seen remarkable economic, social and political change since 1973 at the core of which has been EU membership. This lecture will also address the other anniversary of 2023, the 25th anniversary of the Belfast/Good Friday Agreement, which is inextricably linked to the question of Ireland's EU membership, no more so since Brexit.
The lecture will be followed by a reception with those joining us in person.
The link to attend remotely will be sent to attendees in advance of the lecture.
Biography
Professor Brigid Laffan is Emeritus Professor at the European University Institute. She was Director and Professor at the Robert Schuman Centre for Advanced Studies and Director of the Global Governance Programme and the European Governance and Politics Programme at the European University Institute (EUI), Florence until her retirement in August 2021. She became President of the EPC think tank in December 2022.
Previously, Prof. Laffan was Professor of European Politics at the School of Politics and International Relations (SPIRe) University College Dublin (UCD), and she was Vice-President of UCD and Principal of the College of Human Sciences from 2004 to 2011. Prof. Laffan was also the founding director of the Dublin European Institute UCD from 1999 and in March 2004 she was elected as a member of the Royal Irish Academy. She is a member of the Board of the Mary Robinson Foundation for Climate Justice, the Fulbright Commission (until September 2013) and was the 2013 Visiting Scientist for the EXACT Marie Curie Network. In November 2018 she was ranked among the women who shape Europe by POLITICO and was also awarded by the University of Limerick Alumni Association with its highest honour. In September 2014 Professor Laffan was awarded the UACES Lifetime Achievement Award. In 2012 she was awarded the THESEUS Award for outstanding research on European Integration. In 2010 she was awarded the Ordre national du Mérite by the President of the French Republic.

About the organiser
IACES aims to bring together European Studies scholars and practitioners from across the island of Ireland to foster collaboration, source funding, and disseminate scholarly research on European integration and membership of the EU.