Description
The Integrity at Work Conference 2017
Theme: Speaking Up Safely
28 September, Radisson Blu Hotel, Dublin 8
The Integrity at Work (IAW) Conference 2017, organised by Transparency International Ireland, is the first to bring together employers, legal practitioners, academics and civil society to discuss how to foster a culture of integrity within Irish workplaces.
The IAW Conference will explore how law, policy and practice work together in helping employers understand what they need to do to help their staff to speak up safely. It will present employers, professionals and policy-makers with a unique opportunity to pose questions, share experiences and learn from their peers and international experts on whistleblowing and whistleblower protection.
Among the questions the IAW Conference will seek to answer will include:
• How do I encourage my staff to report concerns about wrongdoing?
• What are best practices in writing whistleblowing policies and procedures?
• What action should my organisation take after a disclosure has been made?
• What does the Protected Disclosures Act (PDA) mean for my organisation and me?

Outline Agenda
8.30- Registration and Tea/Coffee
9.00- Welcome and Opening Remarks- John Devitt, Chief Executive TI Ireland
9.10- Opening Address – Charles Flanagan, Minister for Justice and Equality
9.30- Keynote Speaker – Emily O'Reilly, European Ombudsman
9.50- Challenges in helping workers to speak up safely.
Panel of speakers from public, private, academic and regulatory bodies.
Anna Myers (Director, Whistleblowing International Network), Kate Kenny (Professor in Management at Queen's University Belfast), Niall Fitzgerald (Head of Ethics and Governance, Chartered Accountants Ireland), Helen Martin (Director of Regulation, Charities Regulatory Authority), Wendy Addison (Founder & Chief Executive, Speak Out Speak Up)

11.20 - 11.40 Coffee Break
11.45- Morning Parallel Workshops
Workshop 1 - The Protected Disclosures Act three years on: How effective has Ireland's new whistleblowing legislation been?
Bob Matheson - Senior Policy Officer, Public Concern at Work.

Susheela Math – Managing Solicitor, Transparency Legal Advice Centre

Michelle Ní Longáin - Partner, ByrneWallace

Lauren Kierans – BL, Founder Irish Whistleblowing Law Society.
Workshop 2 - Meeting your obligations: How to write a whistleblowing policy and procedure
Prof Kate Kenny - Professor in Management at Queen's University Belfast.

Anna Myers - Director, Whistleblowing International Network.

John Devitt - Chief Executive, Transparency International Ireland.

Wendy Addison - Founder and CEO, SpeakOut SpeakUp Ltd.

Peter Wilkinson- Partner, Peter Wilkinson Associates
Workshop 3 - Taking Action: What to do when your staff speak up?
Philip Brennan – Founder and Managing Director of Raiseaconcern.com.

Prof Niamh Brennan - Michael MacCormac Professor of Management, UCD

Emmet Whelan - Partner, ByrneWallace

Niall Fitzgerald - Head of Ethics and Governance, Chartered Accountants Ireland.

Lucas Kruettli - Attorney at Law, Roche Pharmaceuticals
13.00- Lunch
14.00- Plenary Panel Discussion, Rapporteurs from Parallel Workshops present and discuss their workshop summaries
14.30- Speak Up Report 2017– John Devitt and Susheela Math, TLAC Managing Solicitor.
15.00- Coffee Break
15.15-Patrick O'Donovan TD, Minister of State at the Department of Finance and the Department of Public Expenditure and Reform
15.30- Getting it Right – Examples from Public, Private and Non-Profit Organisations.
Panel Discussion/ Q&A.
Speakers: Grainne Madden (Founder and Senior Consultant, GMJ Associates), Niamh Brennan (Michael Mac Cormac Professor of Management at University College Dublin), Bob Matheson (Senior Policy Officer, Public Concern at Work), Mary Van Lieshout (Head of Ethics and Compliance, Goal), Lucas Kruettli (Attorney at law, Roche Pharmaceuticals), Peter Wilkinson (Partner, Peter Wilkinson and associates)
16.45 Closing Remarks- John Devitt
Speakers:
Opening Address:

Keynote Speaker:

Panels & Workshop Speakers: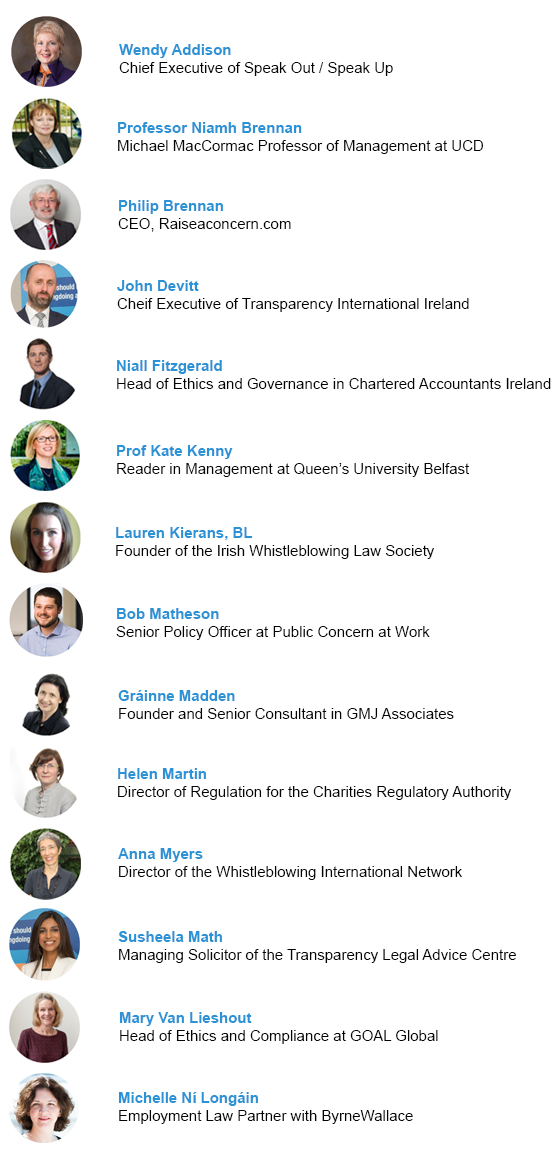 See full speaker details at: http://transparency.ie/integrity-work/conference-2017/speakers