Description
ICF Ireland Coaching Awards Gala 2017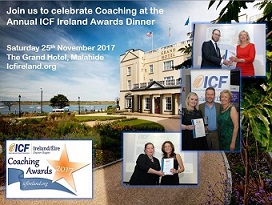 At ICF Ireland we want to recognise and celebrate excellence in coaching in Ireland, and the continued development of coaching for individuals, teams, communities and organisations of all kinds.
This year we will be holding the fourth annual ICF Ireland Coaching Awards in the wonderful surrounds of The Grand Hotel Malahide on 25th November.
All are welcome; anyone with an interest in personal and professional development will have the opportunity to connect and network with like-minded colleagues - last year's event was attended by over 100 business, HR and coaching professionals.
Running Order for the Day
3.30pm Seminars (for all guests) & AGM (for ICF members):
5.30pm Break
6.30pm Drinks Reception
7.30pm 3 Course Dinner with complimentary wine
9.30pm Guest Speaker, Awards Presentation and Raffle for some fantastic prizes!
Sponsorship tables for 10 guests are also available for organisations wishing to support our event.
There are several other hotels and guest houses in the area, and the hotel is not far from the city centre. Please note that refunds are not possible for tickets purchased for this event.
We look forward to a very interesting and enjoyable day with the coaching community in Ireland
Siobhán Boucher
ICF Ireland Director of Events 2017