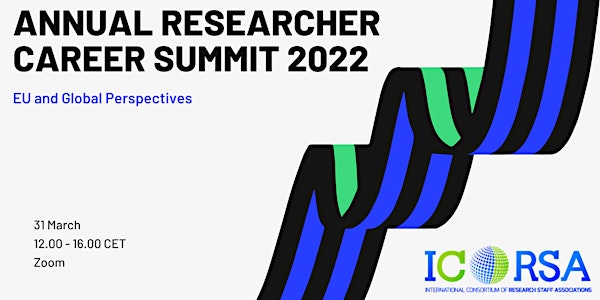 ICoRSA Annual Researcher Career Summit 2022 - EU and Global Perspectives
ICoRSA Annual Researcher Career Summit 2022 - EU and Global Perspectives
About this event
Join us online for our 1st Summit with key speakers presenting their perspectives on researcher careers, and representatives of national research staff associations focusing on challenges and impacts.
We will officially present our Position Statement on Precarity of Research Careers as well as the results of our Global Survey on Research Career Progression.
ICoRSA mission is to advance the welfare of researchers and in particularly advance the career prospects and career development path of researchers. In spite many initiatives, proposals and policies issued over the last decade or two, there's been very little progress to improve the quality of researcher career, if anything it could be viewed as becoming more unattractive.
In order for ICoRSA to approach decision making bodies both at European level and global level, it is necessary for ICoRSA to be fully informed and provided with relevant information and data on the current status of researcher careers. ICoRSA has identified that there is an enormous gap in the knowledge of the career of researchers globally and how they vary from country to country and region to region. Some countries operate best practise in many areas, and other countries are operate poorer practices. In short, there is no comprehensive global picture of the careers of researchers.
Key speakers
Carthage Smith | OECD
Lidia Borrell-Damian | ScienceEurope
Slaven Misljencevic | EC Directorate for Research and Innovation
Clare Viney | CRAC/Vitae
Carl Vannetelbosch | UNESCO
Online Conference
Despite our hopes that we would be able to organise a physical event, our Forum will be fully online . The online format enables us to offer you an event with international speakers . Join us in the discussions and Q&A sessions!
AGENDA (in CEST)
12.00 – 12.10
WELCOME & OPENING SPEECH
Gordon Dalton | ICoRSA
12.10 - 13.50
PRESENTATIONS BY KEY SPEAKERS
Carthage Smith - Senior Policy Analyst - Lead co-ordinator, OECD Global Science Forum
Formerly Deputy Executive Director International Council for Science
Topic: OECD publication: Reducing the precarity of academic research careers
Lidia Borrell-Damian - Secretary General of ScienceEurope
Formerly Director for Research and Innovation at the European University Association (EUA)
Topic: "Researchers' careers and research culture"
Slaven Misljencevic - Policy Officer in the Directorate-General for Research and Innovation of the European Commission
Topic: European labour market for researchers and the development of RESAVER pan-European occupational pension fund
Clare Viney - Chief Executive Officer of CRAC/Vitae
Chartered Scientist and Chemist
Topic: Researcher Development Framework (RDF)
Carl Vannetelbosch - UNESCO , Section for Research, Policy and Foresight in the UNESCO Sector for Social and Human Sciences
Topic: UNESCO Recommendation on Science and Scientific Researchers
Q&A SESSION
PRESENTATION OF ICoRSA'S POSITION STATEMENT ON PRECARITY OF RESEARCH CAREERS
COFFEE BREAK: 13.50 – 14.10
14.10 - 15.50
PRESENTATION OF RESULTS OF ICoRSA'S GLOBAL SURVEY ON RESEARCH CAREER PROGRESSION
PRESENTATIONS BY REPRESENTATIVES OF NATIONAL RESEARCH STAFF ASSOCIATIONS
Oceanic Platform of the Canary Islands (PLOCAN, Spain) - Dr. Jose Joaquin Hernandez Brito, CEO and Director
VDI/VDE Innovation + Technology GmbH (Germany) - Martin Hering, Education, Science and Humanities
Associação Nacional de Investigadores em Ciência e Tecnologia (ANICT, Portugal) - Mafalda Rangel, Vice-President
Italian Research Staff Association (Italy) - Sveva Avveduto, Board member
Irish Research Staff Association (Ireland) - Andrew Allen, Chair
Q&A SESSION
15.50 - 16.00
CLOSING SPEECH
ICoRSA
The Zoom link will be shared via email after registration and will be available here when the Summit starts!