Join this workshop to generate ideas for the Arts in County Monaghan could lead into some free Innovating Communities Courses
About this event
What ideas do you have for the Arts in County Monaghan?
This Idea Generation Workshop is a quick 30mins online brainstorming session and an opportunity for you to bring forward your ideas - wild and wonderful welcome! Have a think about your ideas beforehand so you are prepared and ready to share and discuss.
This session is taking place as part of the Innovating Communities project, led by Monaghan Integrated Development, and we invite community groups, individuals, businesses and those in-between, to attend!
If you have an interest in and ideas for your community and local area, this session and Innovating Communities is for you.
Innovating Communities is a 2 year project that will deliver free facilitated training in 'Design Thinking' which is a Creative Problem Solving process. This process will be taught through a series of free Courses addressing ideas identified by local people.
Your ideas for the Arts in County Monaghan might inform a new Course which will support you to act on your idea/s - check out the current active Courses at www.innovating.ie/training
For more info, visit www.innovating.ie / contact Collette cmentee@midl.ie / 087 176 1732
If this is not the workshop theme for you, we have more online workshops scheduled (all 7.30-8pm) for other areas and themes;
• Monaghan Town and surrounds (Mon 12th July)
• Arts (Thurs 15th July)
• Carrickmacross and surrounds (Mon 26th July)
• Care (Thurs 29th July)
• Clones and surrounds (Mon 9th Aug)
• Education (Thurs 12th Aug)
• Castleblayney and surrounds (Mon 23rd Aug)
• Food & Farming (Thurs 26th Aug)
If you wish to host an Idea Generation Workshop for another area or theme that we have not addressed, please get in touch!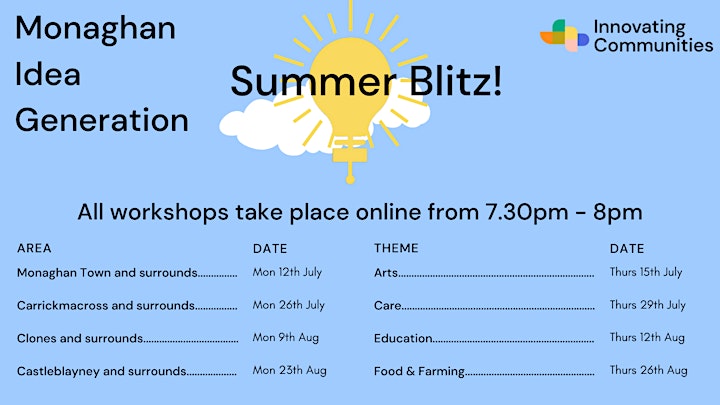 Organizer of Idea Generation Workshop for County Monaghan - Theme: Arts