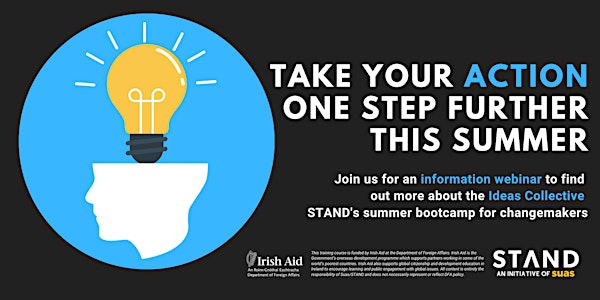 Ideas Collective 2022 - Info Webinars (multiple dates)
Learn more about applying for the Ideas Collective 2022!
About this event
Calling all changemakers!
Are you overwhelmed by the challenges facing us as a global community? Do you feel called to make a positive impact, but don't know where to start? Are you ready to acquire the courage, creativity and skills to tackle pressing global issues?
The Ideas Collective could be for you.
The Ideas Collective is STAND's summer boot camp for changemakers. We take students and recent graduates on a three-month journey of training, experiential learning, design thinking and coaching to help you develop the mindsets, confidence and practical tools to develop action-focused projects for positive change.
Using human-centred design approaches, you'll work individually and in teams to co-create innovative solutions to pressing global issues – from migration to climate justice, global health to gender equality. You'll leave with direct, practical experience applying design thinking methodologies for social innovation and global change, a finished prototype, a supportive network, as well as the opportunity to win seed funding for your project
--
This hour-long info webinar is your chance to find out more about the Ideas Collective 2022, learn about what's involved, hear from past participants, and ask any questions you might have about the program.
Come along and see what it's all about - no obligation to apply!
We look forward to chatting about your ideas for change!
--
Welcome
What is the Ideas Collective?
What does this year's program look like?
What challenges will we be tackling?
What's the schedule and time commitment?
Hear from Past Participants
Open Floor for Q&A!