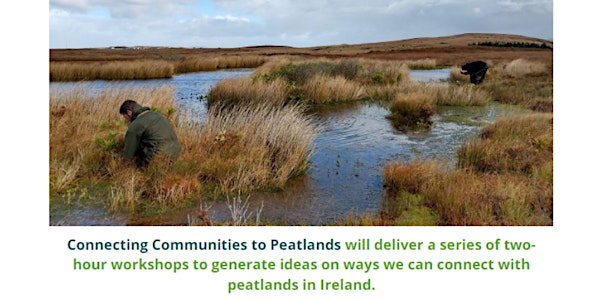 Ideas Generation Workshops for Peatland Communities in the Midlands
Connecting Communities with Peatlands will deliver a series of two-hour workshops to generate ideas for peatland projects
About this event
These workshops will follow a creative problem-solving process called 'design thinking'.
Design thinking is for everyone! It lays out a clear path for people to follow and encourages a positive mindset so people can learn about each other and their needs.
We hope that by the end of the workshop you will have developed an idea or project based around your local bog which you can begin to implement with your community group, with the help of the Connecting Communities with Peatlands project.
Workshops will take place online to accommodate the different locations of community groups in each county. It is recommended that 2-3 people from each community group attend as the workshops will have breakout rooms to allow for brainstorming.
Please register for the workshop allocated to your county as numbers for each workshop are limited. Dates for each county are listed below:
6-8pm, Tuesday 31st May, Co. Kildare
6-8pm, Thursday 2nd June, Co. Offaly
6-8pm, Tuesday 7th June, Co. Westmeath POSTPONED 28th June
6-8pm, Thursday 9th June, Co. Longford
6-8pm, Tuesday 14th June, Co. Laois
6-8pm, Thursday 16th June, North Tipperary
6-8pm, Tuesday 21st June, Co. Roscommon
6-8pm, Thursday 23rd June, East Galway