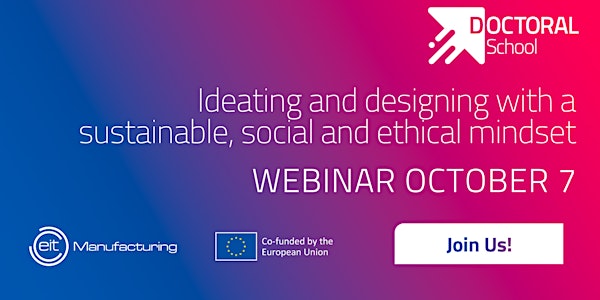 "Ideate and design with a sustainable, social and ethical mindset" Webinar
An interactive webinar for manufacturing PhD students to learn about ethic in manufacturing business and societal impact
By EIT Manufacturing Doctoral School
Date and time
Friday, October 7, 2022 · 12 - 7am PDT
About this event
The webinar "Green Manufacturing: technology, industrialization and innovation" is organized in 3 sessions of 2 hours each and the speakers will interact with the participants to make them understanding the societal aspects and impact of manufacturing design, production and products.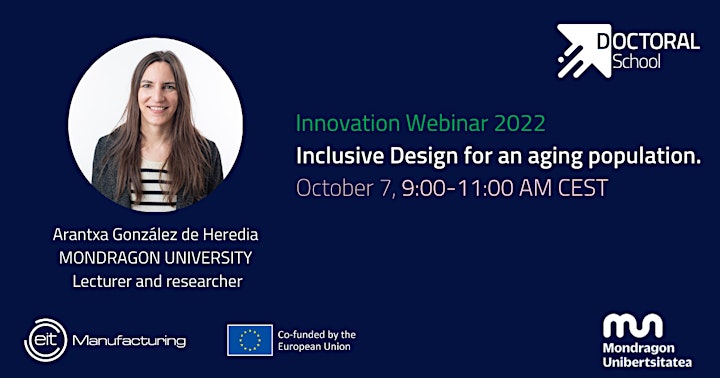 At 09:00 AM CEST: "Inclusive Design for an aging population", by Arantxa González de Heredia
The participants will understand the strategic dimension of Inclusive Design. The aging of the population is both a challenge and an opportunity for companies and public administrations that can use it as an inspiration to develop new product and services that improve quality of life. Participants will also learn how to design products and services for the aging population.
The speaker:
Dr. Arantxa is a lecturer and researcher at the Faculty of Engineering at Mondragon Unibertsitatea. She holds a PhD in Aging and Inclusive Design. Her later work are focused on understanding diversity and integrating it during the different phases of the Human Centered Design process of new products and services.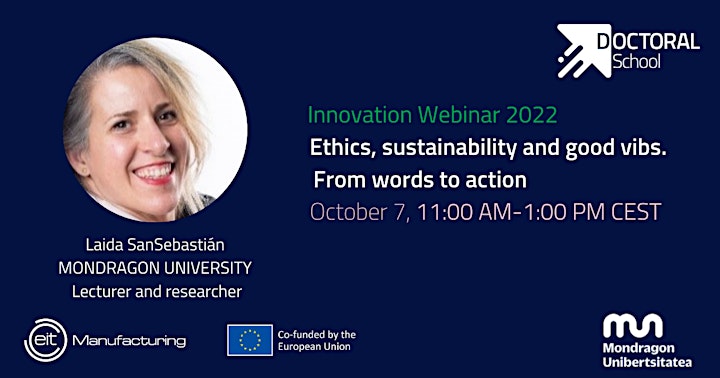 At 11:00 CEST: "Ethics, sustainability and good vibs. From words to action", by Laida SanSebastián.
The participants will be able to:
- understand the social and economical effects of a sustainable business activity.
- understand the responsibility of any business organization (whether social or not) to become a Purpose Organization, How manage an organization according to humanistic values.
The speaker:
Laida SanSebastián is Industrial Management Engineer (2000), entrepreneur and CEO of different owned companies in social fields for more than 15 years, Phd. in quality of life of the elderly (2019), and lecturer and researcher in the engineering faculty of Mondragon Unibertsitatea for the last 3 years, she holds the position of sustainable technology base entrepreneurship coordinator, active member of APTES, Asociation of Social Technology and expert in humanistic organisations management models.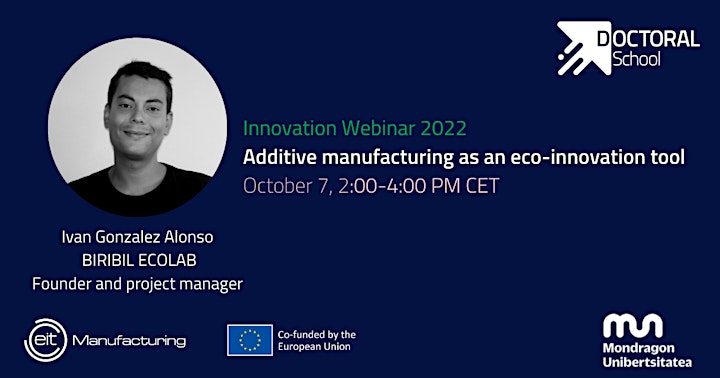 At 14:00 CEST: "Additive manufacturing as an eco-innovation tool", by Ivan Gonzalez Alonso (Biribilecolab).
The participants will learn about the discipline of eco-design and they will be able to understand how additive manufacturing accelerates the eco-innovation process.
The speaker:
Ivan González is graduated in engineering in industrial design and product development and master in strategic design of products and services.
He has worked as a designer and product developer in companies such as Orona, Telefónica and the Loop Unique Companies consultancy.
He has also worked as a teacher and researcher at Mondragon Unibertsitatea and at the University of Deusto in the areas of product design and mechanical design, in addition to participating in different projects in the creation of prototypes with the support of digital manufacturing technologies.
Currently he is founder and project manager at BIRIBIL ECOLAB, a product design studio specialized in circular economy.
Discover here below the other EIT Manufacturing Doctoral School Innovation Webinars in 2022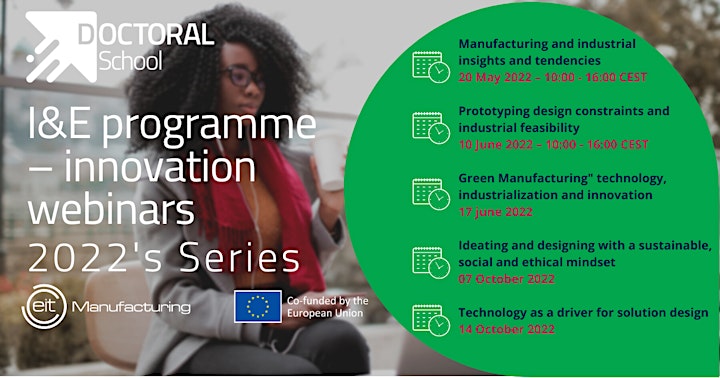 The webinars will be recorded and made available to the participants. Joining the webinars you agree with the EIT Manufacturing privacy policy and data management, to share your contacts with the Doctoral School university partners, to the recording and sharing of the video: https://eitmanufacturing.eu/privacy-policy/
The EIT Manufacturing Doctoral School run an Innovation and Entrepreneurship programme, linked with international and cross-organizational mobility on top of PhD positions across Europe, through a consortium of six universities, as showed in the picture above. Checkout the EIT Manufacturing Doctoral School web page to discover main information : https://eitmanufacturing.eu/activities/eit-manufacturing-doctoral-school/