Impact Series - Innovation in Education

Monday, 8 April 2013 at 18:30
Event Details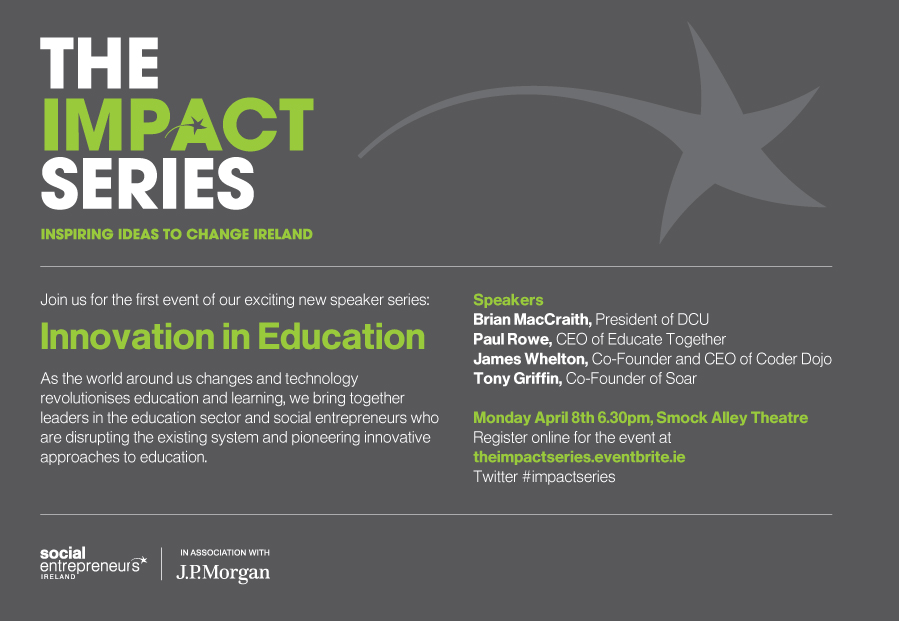 The first event of Social Entrepreneurs Ireland's exciting new series of events, The Impact Series will look at Innovation in Education. We all know that the world around us is changing rapidly, that technology is revolutionising our relationship with information and learning and that uncertainty prevails in every sector of Irish society. So we ask, how is our education system coping with this change and what effect does a rapidly changing and uncertain society have on what, how and where we learn?
Join us on April 8th at 6.30pm in Smock Alley Theatre to hear how a unique mix of leaders in the education sector and social entrepreneurs are disrupting existing systems and pioneering innovative approaches to education.
Ticket price is a donation of your choice when you book online (or €15 on the door, if there are tickets remaining). All donations will go towards The Minnovation Fund which will be given to one high potential startup social entrepreneur on the night.
If you are an early stage social entrepreneur with a great idea to change Ireland, The Minnovation Fund could be the seed fund that will get your idea off the ground!
Each night at The Impact Series events, The Minnovation Fund (which will comprise all ticket proceeds) will be up for grabs. To enter, make a simple 2 minute video on your smartphone describing your idea, post it to Youtube, send us the link and the top three ideas will get a chance to pitch their innovation to the audience on the night. The winner will be chosen by the audience and presented with their prize at the end of the night.