Impact Series - 'Unlocking a positive future for offenders'

Thursday, 19 May 2016 from 18:30 to 21:30 (IST)
Event Details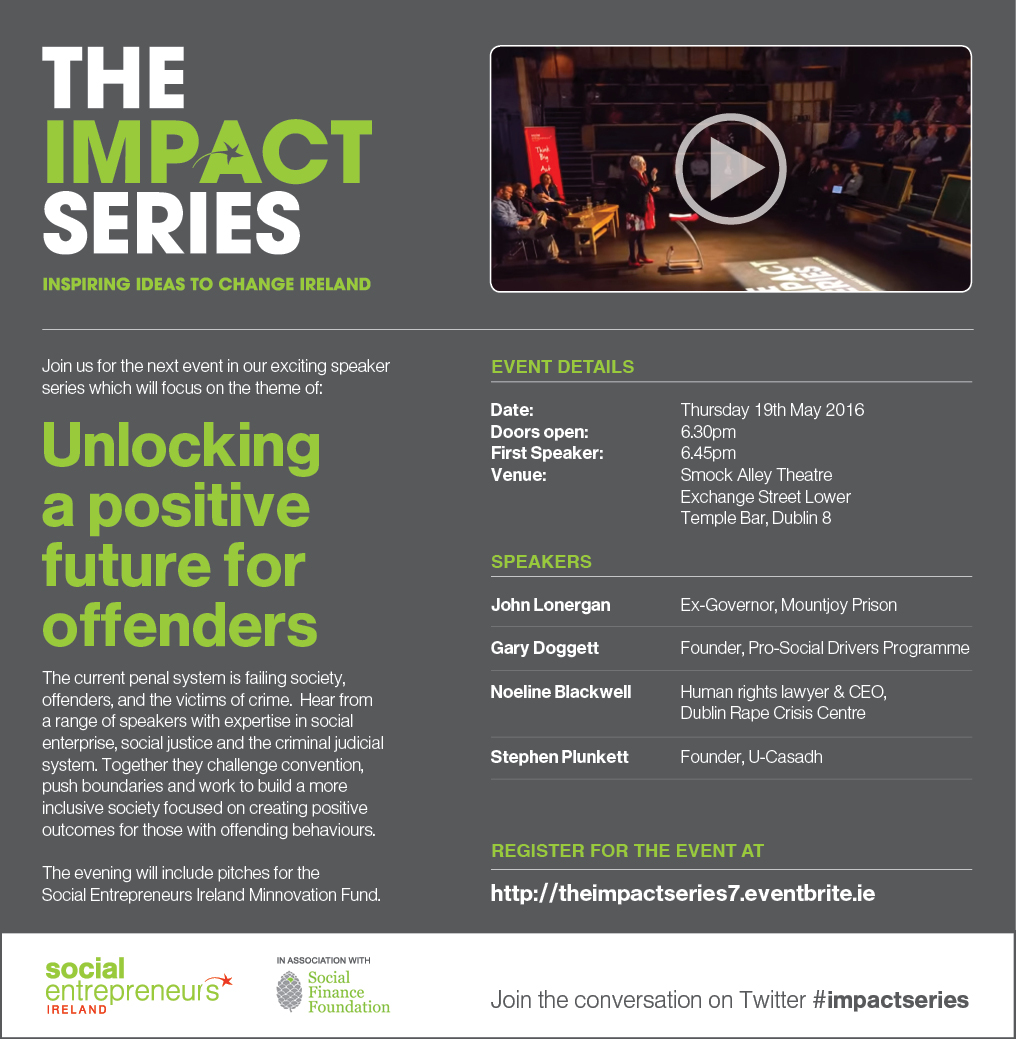 Join us for the 7th event in The Impact Series which will focus on the theme 'Unlocking a positive future for offenders'
The current penal system is failing society, offenders, and the victims of crime.  It is widely acknowledged, that social exclusion, poverty and educational disadvantage are key influences in re-offending behaviour.  Punitive measures alone do not address the core behaviours that cause the offences in the first place so reoffending rates continue to remain very high.  There is a growing movement towards providing more socially inclusive programmes of support for offenders that will provide better positive outcomes for their futures, the communities in which they live and society in general.  We will hear from a range of speakers with expertise in social enterprise, social justice and the criminal judicial system.  Together they challenge convention, push boundaries and work to build a more inclusive society focused on creating positive outcomes for those with offending behaviours.  
Speakers include:
John Lonergan

, Ex-Governor of Mountjoy Prison

Gary Doggett

, Founder, Pro Social Drivers Programme and Social Entrepreneurs Ireland Awardee 2015

Noeline Blackwell, Human rights lawyer and CEO, Dublin Rape Crisis Centre

Stephen Plunkett

, Founder, U-Casadh and Social Entrepreneurs Ireland Awardee 2015
Date: Thursday 19th May in Smock Alley Theatre, Dublin 8
Doors Open: 6:30pm (First speaker: 6:45pm)
Ticket price is a donation of your choice when you book online (or €15 on the door). All ticket proceeds will go towards The Minnovation Fund which will be given to one high potential start-up social entrepreneur on the night. Further details on how to apply to pitch are provided below.

The Minnovation Fund
If you are an early stage social entrepreneur with a great idea to change Ireland, The Minnovation Fund could be the seed fund that will get your idea off the ground! Each night at The Impact Series events, The Minnovation Fund (which will comprise all ticket proceeds) will be up for grabs.  In addition to the prize money on the night, we are very grateful to Blueface who are sponsoring 1 year's worth of phone services to the winner to the value of €500.

To enter: 
Make a simple 2 minute video on your smartphone describing your idea, post it to Youtube, and send the link to maria@socialentrepreneurs.ie DEADLINE EXTENDED to Monday 16th May at 12pm.

As this event will focus on 'Unlocking a positive future for offenders' we will shortlist the top three ideas, preferably relating to this theme who will get a chance to pitch their innovation to the audience on the night. The winner will be chosen by the audience and presented with their prize at the end of the night.  
We would really appreciate if you could share this event with your networks and anyone you know who may be interested.
Suggested update for Twitter:
Join @SEIreland at The Impact Series: 'Unlocking a positive future for offenders' bit.ly/1SPr8tH #impactseries #socialjustice


All the best,
The Impact Series Team at Social Entrepreneurs Ireland
Speaker Profiles:

JOHN LONERGAN, Ex-Governor of Mountjoy Prison
John Lonergan is a native of Bansha, Co. Tipperary.  He joined the Irish prison service in March 1968.  He was appointed Governor of Mountjoy Prison in 1984 and served in that capacity for over 22 years (he served as Governor the top security prison in Portlaoise from 1988 until 1992)  He retired from the prison service in June 2010 having served over 42 years.  He is the father of two grown up daughters.  His autobiography 'The Governor' was published in October, 2010.  In 2013 he wrote a book on parenting' Raising your child in Ireland today'.  He argues that poverty and social deprivation are the main contributory factors to young people getting involved in crime and believes that education is the only pathway out of the poverty trap.  



GARY DOGGETT, Founder, Pro Social Drivers Programme and Social Entrepreneurs Ireland Awardee 2015 
Gary Doggett is founder and CEO of Pro-Social Ireland (www.psdpireland.com) which is the organisation which runs the Pro-Social Drivers Programme. The Driver's programme was set up in 2012 in response to the high instances of anti-social driving behaviour and the many deaths among young drivers in Donegal. The ethos behind Pro-Social Ireland is to prevent re-offending through education, with the aim of helping course participants to create more positive outcomes for themselves and other road users by changing their thinking about driving.  The course is the first of its kind in Ireland.   Gary was a recipient of the Social Entrepreneurs Ireland Impact Award in 2015 for the Pro-Social Drivers Programme. The initiative has also won an award from the Irish Road Victims Association and the adult education organisation Aontas. 



NOELINE BLACKWELL, Human rights lawyer and CEO, Dublin Rape Crisis Centre 
Noeline Blackwell is a human rights lawyer based in Dublin. She has been recently appointed as CEO of the Dublin Rape Crisis Centre, working on issues of sexual violence. She previously worked on rights of access to justice with FLAC for a decade and before that, she ran a solicitor's practice where she had a particular interest in refugee and immigration issues and in family law. She is a member of the boards of the Citizens Information Board, Front Line Defenders and the Immigrant Council of Ireland. 



STEPHEN PLUNKETT, Founder, U-Casadh and Social Entrepreneurs Ireland Awardee 2015 
Stephen is the CEO and founder of the U-Casadh Project (www.ucasadh.ie) which is a social enterprise based in Ferrybank on the Kilkenny/Waterford border. U-Casadh has a vision of an Ireland where every person is given a second chance to know their self-worth and take full advantage of their potential. Stephen was a Prison Officer for many years through which he was compelled to support and advocate on behalf of vulnerable adults who found themselves on the wrong side of the law.
U-Casadh delivers 3 phases of support for ex-prisoners and their families: stabilization, social and practical training and education, and employment and enterprise processes.   This approach has led to a reduction in recidivism from 67% nationally to 25% for participants of the U-Casadh programme, creating a non-judgmental space for people and safer communities for all. There are multiple programs that are adaptable to the changing needs of U-Casadh customers. Stephen was a recipient of an Impact Award from Social Entrepreneurs Ireland in 2015 which allows him to continue to develop and grow the impact that this type of support can have nationally.  
 Event Sponsor

We are very grateful for the support of the Social Finance Foundation who are sponsoring The Impact Series. The Social Finance Foundation is a wholesale lender of social finance, providing finance to Social Lending Organisations so that they in turn can lend to borrowers seeking funding primarily for the purpose of community development and social enterprise.  

For more information see the Social Finance Foundation website: www.sff.ie
When & Where

Smock Alley Theatre,
6/7 Exchange Street Lower
Dublin 8
Ireland


Thursday, 19 May 2016 from 18:30 to 21:30 (IST)
Add to my calendar
Organiser
Social Entrepreneurs Ireland is a not-for-profit organisation that supports people with new solutions to Ireland's biggest social problems.
Social Entrepreneurs Ireland helps these individuals to increase their impact by providing significant funding alongside in-depth technical and practical supports. Over the last 12 years, Social Entrepreneurs Ireland has supported 204 social entrepreneurs, and this year's funding will bring the total support to over €6.7 million invested in their projects, in addition to providing significant additional supports.
These projects have in turn directly impacted 520,000 people all over Ireland, creating over 1,230 employment opportunities in the process. For more information please see www.socialentrepreneurs.ie