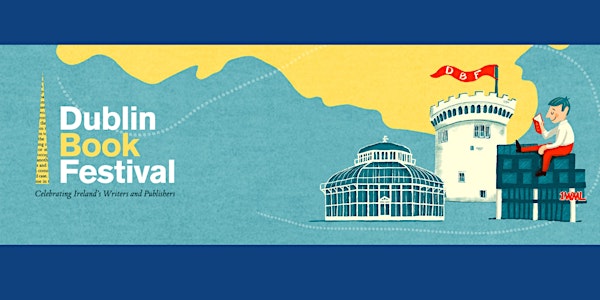 IMRAM - Emerging Writers
Join us for this special event featuring some of Ireland's emerging Irish language contemporary writers.
Date and time
Sat, 12 Nov 2022 12:30 - 13:30 GMT
Location
The Printworks, Dublin Castle Dame Street Dublin 2 Ireland
About this event
This event is in partnership with IMRAM.
Join us for this special event featuring some of Ireland's emerging Irish language contemporary writers.
Seán Ó Muireagáin, short-story writer par excellence, will read from his latest collection Bádh B'fhéidir (Éabhlóid) , an imaginative exploration of the science fiction genre, with dystopian tales that have distinct echoes of our world. In Árasan (Cló Iar-Connacht) by Ógie Ó Céilleachair we will hear about four first-year students living in the same Irish-speaking apartment and their experience of college life in all its aspects – night life and love, financial challenges, fights and friendships. Máirín Nic Con Iomaire will read from Na Rithe Beaga, her translation into Irish of Les Enfants Sont Rois (Barzaz) by bestselling author Delphine de Vigan, a thriller about the disappearance of a child and the perils of social media.
Gearrscéalaí par excellence é Seán Ó Muireagáin agus saothar ficsin eolaíochta atá sa bhailiúchán is déanaí uaidh Bádh B'fhéidir, eachtraí diostóipe nach bhfuil rófhada ón domhan comhaimseartha ina mairimid. In Árasán, déanann Ógie Ó Céilleachair cur síos ar cheathrar mac léinn sa chéad bhliain a bhfuil cónaí orthu san árasán céanna a labhraítear Gaeilge ann: an grá agus an ghruaim, deacrachtaí airgeadais, cairdeas agus teannas. Léifidh Máirín Nic Con Iomaire as Na Ríthe Beaga, aistriúchán ar Les Enfants Sont Rois leis an údar móréilimh Delphine de Vigan, scéinséir faoi leanbh ar iarraidh agus priacail na meán sóisialta.
Our aim at Dublin Book Festival is to make the festival as accessible as possible by bringing you as many free events as we can. For our free events, donations, no matter how small, are always welcome and will go towards ensuring we can continue to bring you the best in literary events.
Donations can be made HERE
About the organiser
The Dublin Book Festival is one of Ireland's most successful and vibrant book festivals, running since June 2006. The annual public festival showcases, supports and develops Irish publishing by programming, publicising and selling Irish published books, their authors, editors and contributors – all in an entertaining, festive, friendly and accessible environment that reflects the creativity and personality of the Irish publishing sector and its authors.
The Dublin Book Festival 2022 will take place across Dublin City from 8th - 13th November 2022
For general queries please email info@dublinbookfestival.com