In the Name of Future Generations
Description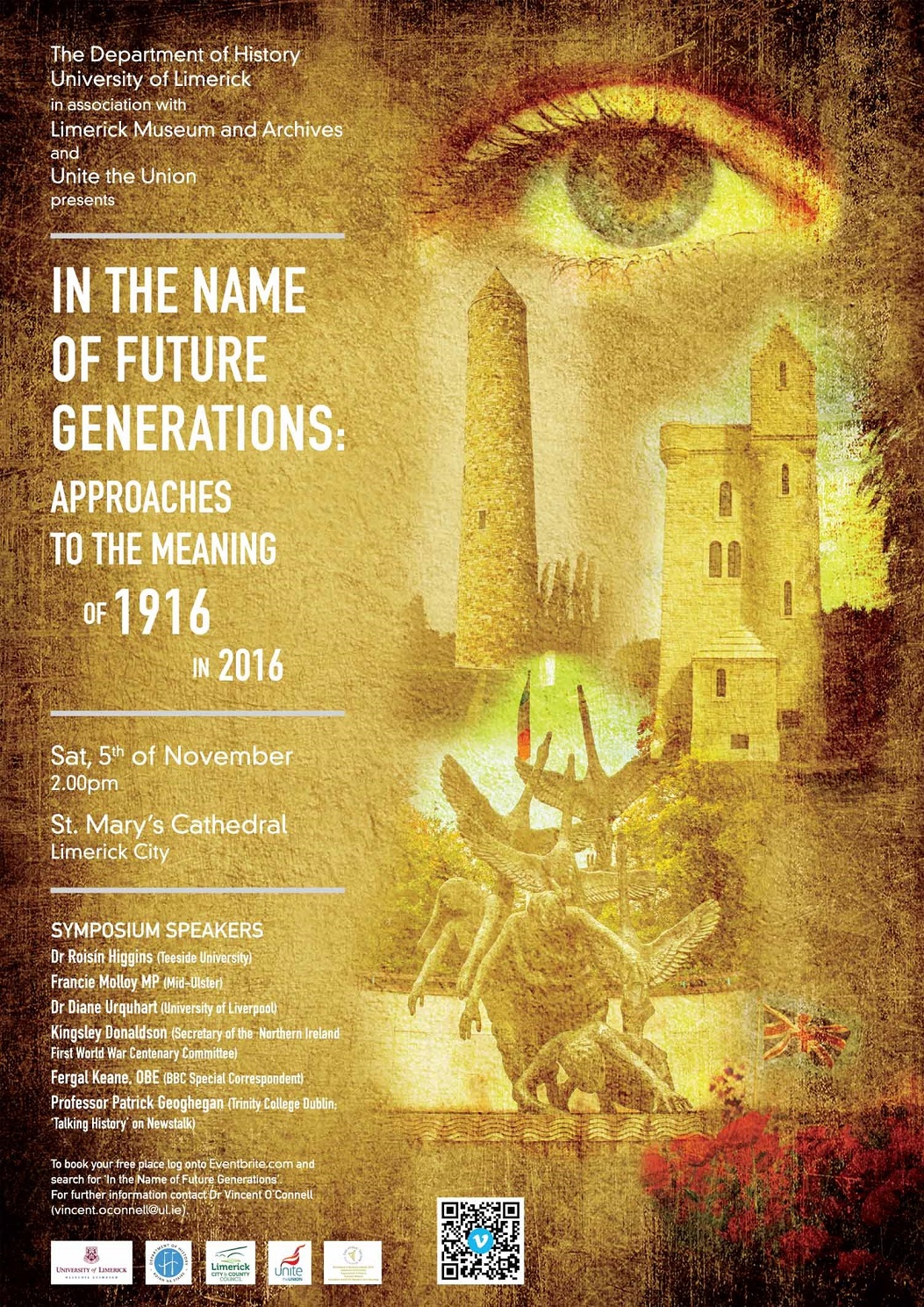 This year marks the centenary of the Easter Rising of 1916, a historic event which has since defined the nature of politics, history and society on this island up to the present day. Another event in Irish and British history
which shares its centenary year with the Easter Rising is the Battle of the Somme; an event which saw thousands of Irishmen from divergent political traditions on this island offer the ultimate sacrifice on the battlefields of the Western Front. While in the Republic of Ireland the Rising has been marked with varying degrees of importance over the years, commemorating the Somme has, until recently at least, been somewhat muted.
The Department of History at the University of Limerick in association with Limerick Museum and Archives and Unite the Union will convene a symposium on Saturday 5th November which will bring together professional speakers from the world of academia, politics and journalism, to examine the evolution of interpretation around these events with an eye to empathising with each other's past going forward. This event falls under the rubric of public history and offers an opportunity for scholars and the general public alike to re-examine our historical consciousness with regard to 1916 and the significance of these seminal events (the Rising and the Somme) in Irish and British history and how they continue to be redefined, reimagined and reinterpreted.
'In the Name of Future Generations: Approaches to the Meaning of 1916 in 2016' not only looks to the past but also to the future in terms of interpreting the meaning and significance of these watershed events in Irish and British History. Our pasts may indeed be divergent, but they need not continue to be divisive.
For further details on our symposium please click on the link below.
Or why not check out our Wordpress site: https://ul1916.wordpress.com/

Symposium Speakers:
Dr. Diane Urquhart, University of Liverpool
Kingsley Donaldson, Secretary of the Northern Ireland First World War Centenary Committee
Dr. Roisín Higgins, Teeside University
Francie Molloy, MP(Mid Ulster)
Professor Patrick Geoghegan, Trinity College Dublin & Newstalk's 'Talking History'
Fergal Keane, OBE, BBC Special Correspondent
The Department of History at UL and its associates welcome you to partake in this unique and historic event. The symposium will take place in the magnificent St. Mary's Cathedral in the historic heart of Limerick city.
Admission to the symposium is free, however booking is essential. Book your place now on Eventbrite.com.
Doors open from 1.30pm
Symposium begins at 2.00pm.
Refreshments will be served during the interval.
All day parking is available in the Potato Market car park for just €4 for those attending this historic event.
With Special Thanks to
An Garda Síochána
Belfast Model School for Girls, 35 Dunowen Gardens, Belfast
Coláiste Íde agus Iosef, Abbeyfeale, Co. Limerick
Irish World Academy of Music & Dance
Limerick City & County Council
Limerick Museum & Archives
Postgraduate and Undergraduate students of History at the University of Limerick

St Mary's Cathedral
The Department of History, University of Limerick
The Milk Market
The People of Limerick
Unite the Union