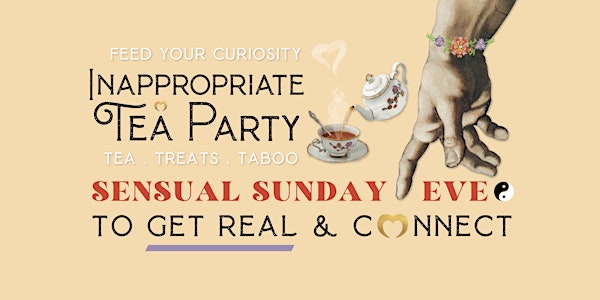 Inappropriate Tea Party : Get Real
Let your curiosity lead you to other curious souls for a slow sensual Sunday where we GET REAL with ourselves and each other.
When and where
Location
Universal space 65 Strand Street Great D01 P446 Dublin 1 Ireland
About this event
Welcoming you to a slow sensual Sunday evening with other curious kin.
Let's have a cup of ceremonial tea together and sink into the luxuriousness of our senses, to arrive deeper into states of presence. Accessing greater innerstanding to meet with what's REAL with us, what our needs and desires are and to learn from eachother.
Having the best of honest cheeky conversations, especially on topics that we've been taught are too bold or taboo. Liberating the layers of lingering sexual shame and suppression in a safe and accepting community of people, layer by layer. To ultimately find the gold in our real life connections and intimate relationships.
Inviting all your shades of wild, weird and wonderful out to play.
Permission to share your quirky, your queer, your quintessence.
Giving opportunity be seen, heard, allowed and room to shine.
Received in loving witness to sooth away judgement and shame.
Learning how to alchemize our fears through giggles, play and pleasure!
"Some of the pure gold of our personality is relegated to the shadow because it can find no place in that great leveling process that is culture." -By Robert A Johnson.
Together creating a more accepting, honest and loving culture for us and all whom we touch.
Assisted by Agatha, bringing us delicious colourful platters of sweet and savory treats and her powerful drumming.
Set with loving intention for 4 hours of fun, yummy, honest, hearty, hugs, sighs, laughter, connection, and bliss.
Limited capacity of 22 people.
Minimum of 11 for event to proceed.
Love, Margarita