Description
GLEN is delighted to present the Inclusion Works 2017 event, with headline sponsors, Facebook.
This one day event will bring global and national thought leaders to Ireland to connect with up to 300 professionals and employees from a cross section of industries in the private and public sector. Inclusion Works will focus on how to create and enhance workplaces across Ireland and abroad, with their LGBTI inclusion.
This event is the first of it's kind in Ireland, with fresh and innovative approaches to lesbian, gay, bisexual, trans and intersex (LGBTI) diversity and inclusion in the workplace. The Workplace Equality Index (WEI) 2017 Awards will be announced at Inclusion Works. GLEN will reveal who has made the greatest improvement in their LGBTI inclusion journey, the highest scoring new entry to the WEI, top performing private and public sector employers, most creative diversity culture initiative and the LGBTI advocate of the year.
Join global and national thought leaders from companies including Facebook, CPL, the Irish Defence Forces, and many more.
Why Attend?
From tech companies to uniformed services, from professional services to public sector employers, this is an opportunity to connect, learn and reflect on how to ensure your organisation is fully inclusive of LGBTI employees, your clients and customers. Inclusion Works will also announce the recipients of awards for the Workplace Equality Index 2017.
The positive impact of an inclusive workplace is clear for LGBTI people and businesses alike.
Recruiting and retaining the best talent

Enhancing employee performance.

Driving creativity and innovation

Building company reputation, winning new business

Mitigating the risk of bullying and harassment

Promoting corporate social responsibility
For more information on speakers and conference agenda, visit www.InclusionWorks.ie
FAQs
Why did the event title and date change?
A number of companies that partner with GLEN have requested to consolidate GLEN's inaugural conference with GLEN's annual Workplace Equality Index Awards to make it a larger one day flagship event and to make it easier for organisations to attend both the conference and awards. In light of this consolidation, the event has been renamed Inclusion Works and will now take place on September 28th, 2017.
How much are tickets?
Early Bird Ticket for Diversity Champion Non-Member €255* (admits one person)
Early Bird Delegation Ticket for Diversity Champion Non-Member €1275* (admits six people)
*additional charges may apply. Please note, Early Bird Tickets are currently available.
Do Diversity Champion Members get a discount? Yes, please email hazel@glen.ie or call 01 672 8650 to get the Diversity Champions member discount code.
Where can I contact the organiser with any questions? Visit www.InclusionWorks.ie or hazel@glen.ie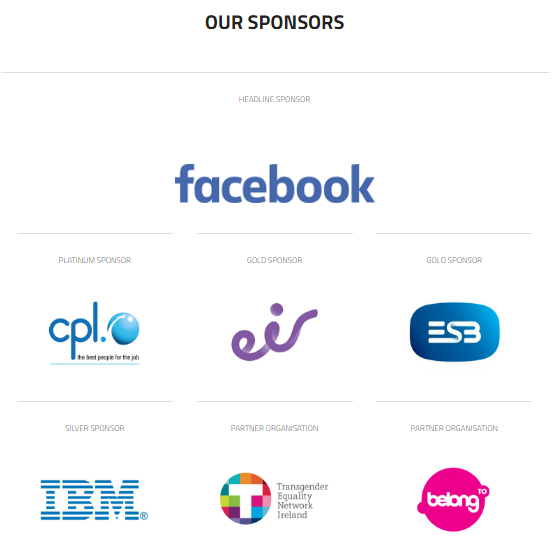 Proudly brought to you by GLEN- the LGBTI equality network