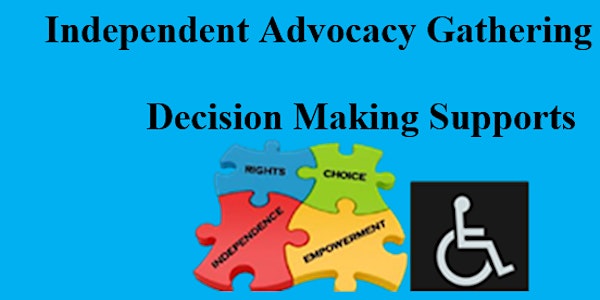 Independent Advocacy Gathering
An online gathering for rights holders, self advocates and independent advocates to to mark the implementation of the ADM Act 2015
Date and time
Thu, 1 Jun 2023 06:00 - 08:00 PDT
About this event
The Independent Advocacy Gathering started in Cork in 2012. We have a planning group that meets regularly to plan the gatherings.
A group of people who are interested in different types of advocacy come together to learn about advocacy and share stories and ideas and develop advocacy in Ireland.
Every year we host an Independent Advocacy Gathering. We invite speakers to talk about different issues in advocacy. This event is for anyone who is interested in advocacy.
We have lots of discussions together.
We also have a network email group where we share information about advocacy. If you would like to be part of this group please email:
independentadvocacygathering@gmail.com
At our events we talk about human rights and advocacy.
We talk about law and policy and speaking up for ourselves.
The Social and Health Education Project continues to facilitate this work.
1:45: Zoom room open so please come in early if you want to check your connection.
2.00: Welcome and Introductions
2:10: Aine Flynn from the Decision Support Service to speak about the implementation of the Assisted Decision Making (Capacity) Act, the changes it is bringing and what the first few weeks of operation have been like.
2:30 Rights Holder What the ADM means to me
2:45-3 Questions and answers
3:00-3:10 Comfort Break
3:10-3:30: 'Our Rights and Medication' video and website launch
3:30-3:45 Short music celebration to finish