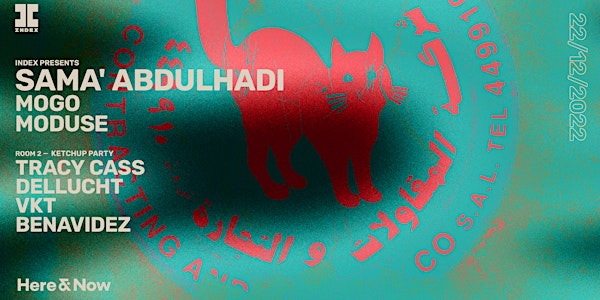 Index: Sama' Abdulhadi
Index: Sama' Abdulhadi
When and where
Location
Index 39-40 Arran Quay D07 X76R Dublin 7 Ireland
About this event
Index
@
Here and Now , 39-40 Arran Quay, Dublin 7
Room 1:
Sama' Abdulhadi
MOGO
MODUSE
Room 2: KETCHUP PARTY:
Tracy Cass
Dellucht
VKT
Benavidez
We are delighted to welcome one of the fastest rising artists in techno and a true spearhead for the Palestinian/Middle Eastern dance scene - Sama Abdulhadi.
Over the last few years there has been few names as prominent where the Middle East and Techno meet as Sama and her Dublin debut is lining up to be one of the more exciting and intriguing shows we've ever done. A Palestinian native now living in France - her rise to prominence was propelled by an electric Boiler Room set in Palestine that got really people talking. More recently both a release on the brand new Circo Loco Records and most notably a controversial Beatport livestream from the tomb of Moses that led to her arrest - both putting her name back into the headlines and ultimately cementing her as a pioneer in the underground dance scene throughout the Middle East with club-goers and techno lovers alike.
As we welcome our new space in Index we think Sama's Dublin debut will fit the tone perfectly - two leading, courageous names in both venue and artist.