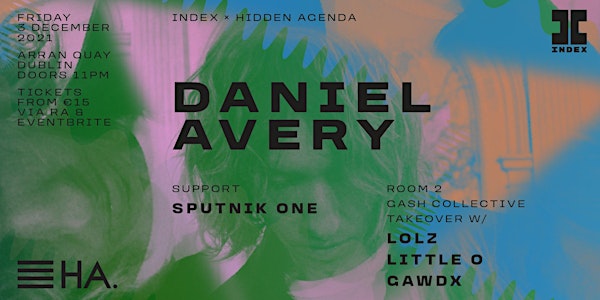 Index x Hidden Agenda: Daniel Avery & GASH
Index x Hidden Agenda: Daniel Avery & GASH
When and where
Location
Index 39-40 Arran Quay D07 X76R Dublin 7 Ireland
About this event
Index x Hidden Agenda
Daniel Avery
Fri 3rd December 2021
Index, 39-40 Arran Quay, Dublin 7
Main Room:
Daniel Avery
Sputnik One
Room 2 - GASH Collective Takeover:
Lolz
Little O
Gawdx
There may be lots of people, most of all Daniel Avery, who are surprised at the direction his musical path has taken. A self-confessed late starter to the world of dancefloors, instead being drawn to the guitars of The Stooges and The Smashing Pumpkins in his teens, Daniel Avery has come a long way in a short space of time to make some of the most forward-thinking, original and diverse contemporary electronic music around.
Devouring his dad's record collection from a young age, it was the discovery of Mary Anne Hobbs' 'Breezeblock' show that illuminated exactly what makes club music so special and propelled him to apply as a warm-up DJ at south coast club night, Project Mayhem; a job that showcased his broad and eclectic tastes, and a job that no doubt changed his life.
Todays announced December 3rd Index show will be Daniel's first show back in Ireland in 44 months.
Now releasing on 'kindred spirit' Erol Alkan's Phantasy label and with new album 'Together In Static', Avery has quietly but surely cemented his reputation as a producer steeped in musical knowledge, with an innate skill for breaking boundaries with each and every production.