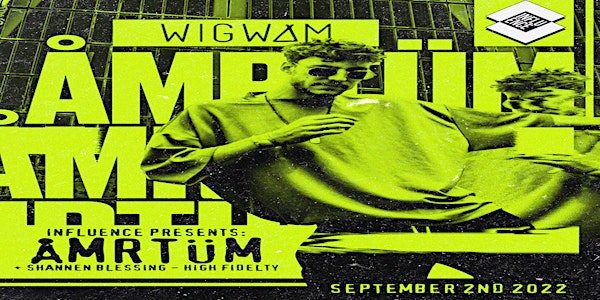 INFLUENCE Presents: ÅMRTÜM At Wigwam
INFLUENCE Presents: ÅMRTÜM At Wigwam. STRICTLY OVER 18s I.D REQUIRED
When and where
Location
Wigwam 54 Middle Abbey Street D01 E2X4 Dublin 1 Ireland
About this event
After our sell out show with Nico Moreno we are back with our second show of the year bringing Rave Alerts ÅMRTÜM to Wigwam for a night full of Techno!
From Hard Groove to Hard Breaks to Hard Rave Techno this night will fulfil any Techno enthusiast's wishes!
ÅMRTÜM
Hailing from Bordeaux and currently based in Berlin, young French producer ÅMRTÜM has experienced lots of different music genres, such as trap, house, pop and even dub and reggae before finding his own style. Trained as a sound engineer for 3 years, he improved his knowledge of sound design. In the making of a new track, his work process is based on analog textures and mixing after recording complete live sessions of several hours with hardware materials.
While keeping all the basics from Techno, he defines his own style as "beyond Techno",with rave influences of course, but not only: Gabber, EBM and Berlin style rumble and round kicks enhanced by extreme and raw melodies which take you into a trip. To his eyes, it's all a matter of atmosphere, structure and freedom.
LINKS
SC : https://soundcloud.com/amrtum
FB : https://www.facebook.com/amrtum
IG : https://www.instagram.com/amrtum.music/
SHANNEN BLESSING
Shannen is a young DJ & producer hailing from the east coast of Ireland. Since Shannen's first gig in March 2019 she has progressed rapidly, showing her capabilities in the booth with great strength, supporting artists such as Jeff Mills, Dax J, DVS1, Sunil Sharpe, Introversion & Inhalt Der Nacht to name a few.
From headlining club shows in Ireland and having a number of tracks released, Shannen recently made a trip to Berlin to play the infamous Hoer Berlin.
With a keen interest in paying homage to the art, Shannen enjoys playing vinyl, whilst also keeping up her incredibly unique and hard hitting underground sound.
HIGH FIDELITY
Uncompromising high octane performances and dynamic productions, which span over a wide range of styles, incapsulate High Fidelity as an artist. Driven by the desire to combine sub-genres to create a distinctive sound, the Irish native takes influence from electro, juke and EBM in his work.
A healthy catalogue of releases which include the prolific ghetto-tech label FTP, Irish-based Hot Seat Recordings and Wachita China's Fast Music label, combined with an abundance of International support from prominent artists in the industry such as Dave Clarke, Partiboi69, Salome, Etapp Kyle and more, has accelerated his reach far beyond the Emerald Isles.
At present, he holds a monthly residency with Project Radio, based in Edinburgh, which has facilitated collaborations overseas and allowed him the opportunity to hone his sound and present carefully crafted shows each month.