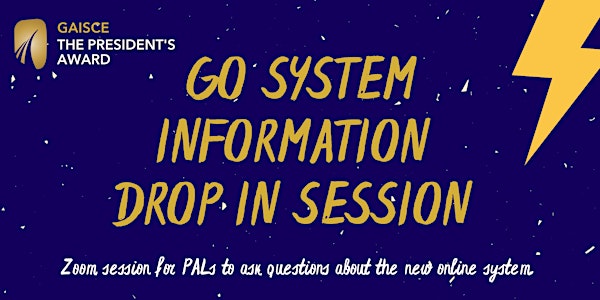 Info Session: GO System
Information session to support PALs in using the Gaisce Online (GO) system.
About this event
We want to make sure you have all the information you need as a President's Award Leader (PAL) to support, mentor and guide all of your participants towards the successful completion of their Gaisce journey.
👋 This will be an informative, practical and supportive 45 minute session where you can ask questions and view the Development Officers showcasing how the system works.
What you will need:
Cuppa ☕
Notepad for any suggestions/ideas you get from the chat
If you have time in advance to note down any questions or thoughts you want to share with other PALs in a similar situation, please do.
A quiet location (if that's available!)
Laptop with built-in mic and camera [recommended over a phone for comfortable viewing and participation in the chat]
Please consider attending with your video on – this very much enhances the chat and you will be more recognisable to other PALs in attendance! 😊
Accessing the Information Session:
🖥️ We will send out a Zoom link an hour before the event. Please ensure you register with an email address you access regularly. We will send you a reminder 2 days before the event too, but if you can, please add this event to your relevant calendar once you receive your Eventbrite confirmation email.
📍 PALs are welcome to attend any of the drop ins.