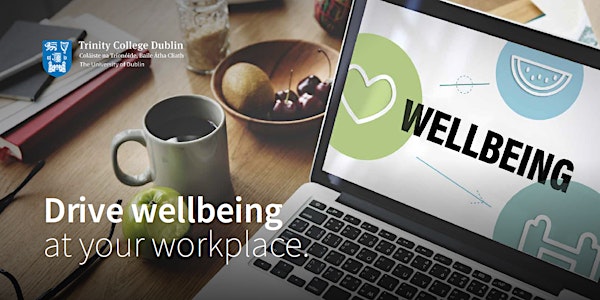 Information Evening - Fully Online CPD in Workplace Wellbeing
Learn more about our CPD in Workplace Wellbeing Qualification at Trinity College Dublin. A seven week fully online course.
About this event
CPD Qualification - Open Evening
An Overview of Our New 7 Week Fully Online Course
Join us on Tuesday January 18th 2022 from 6pm to learn more about Trinity College Dublins exciting new CPD in Workplace Wellbeing.
Wellbeing is a core value of most societies, albeit conceptualised, defined, and promoted in diverse ways. Deriving primarily from a psychological perspective, this course introduces participants to a sociotechnical systems model of workplace wellbeing, contextualising the organisation's role between individual's own wellbeing management, the services, infrastructure and policies in society and the physical infrastructure and technological environment.
This short online course is offered at Postgraduate level. The course is not industry specific and designed to meet the CPD frameworks for a broad cross section of industry bodies.
On the evening we will cover the following topics:
Course Aims
Topics Covered
Who Is The Course For And Is It Right For You
How Workplace Wellbeing Can Benefit You/Your Company
Course Delivery Method
Application Process
Register your interest now to learn more about our CPD in Workplace Wellbeing, commencing February 2022.
We will send a link for you to join this online event via email in advance.