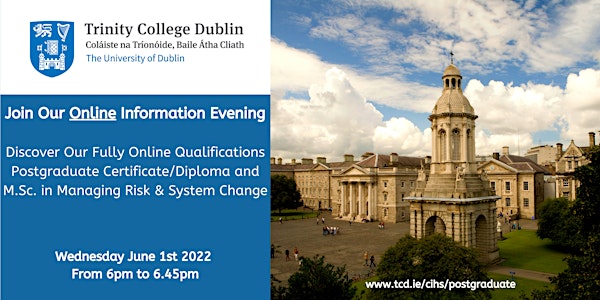 Information Evening - Online Cert/Dip/M.Sc.in Managing Risk & System Change
Join Trinity College Dublin on Wednesday February 23rd from 6p.m. to learn more about Fully Online PG Qualifications in Risk Management.
About this event
On Wednesday June 1st between 6p.m. and 6.45p.m. (local Irish time) Trinity College Dublin will be holding an ONLINE Open Evening for those interested in our Fully Online Postgraduate Certificate / Diploma and M.Sc. in Managing Risk & System Change.
Current students on the course are working in a diverse range of industries which include; Finance, Healthcare, IT, Defence Forces, Emergency Services, Aviation, Casino and Gambling, Law Enforcement, Process and Software Development and Pharmaceuticals.
The course will be an excellent qualification to supplement the further education and career development of personnel who have responsibility for managing: risk, change; operations; quality; safety; human resources; planning; and system design.
Open Evening Structure
On the night simply login using the secure link we will send you in advance and learn more about:
-Course Structure including progression from Certificate to M.Sc. level.
-Demonstration of the Online Student Software Platform
-Timetable
-Assessments
-Entry Requirements
-Tuition Costs
If you would like to join us you can reserve your place now by clicking the REGISTER button. Further details will be sent to you via email in advance of the open evening.
Further Information
If you have any queries in the interim please contact Rory
Email: managingrisk@tcd.ie
You can also find further information on the course by visiting our website.