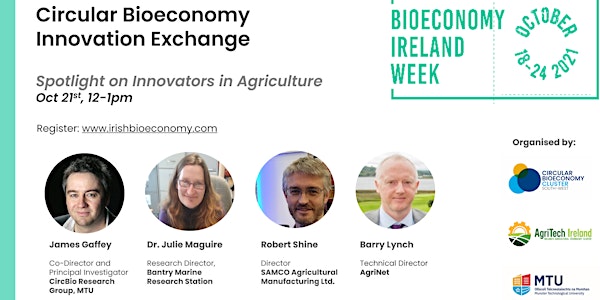 Innovation Exchange: Spotlight on Innovators in Agriculture
Spotlight on Innovators in Agriculture
About this event
This year's Bioeconomy Ireland Week is taking place from 18 – 24th October, a dedicated time in the calendar year to highlight and raise awareness of Ireland's rapidly growing bioeconomy.
In Ireland, we know that innovative approaches to circular bioeconomy are a key priority to meet climate and sustainability targets as outlined in the EU Bioeconomy Strategy, and particularly so for the agriculture sector.
The Circular Bioeconomy Cluster South-West Cluster and AgriTech Ireland Cluster are coming together to highlight the role of innovators in realising a circular bioeconomy.
You're invited to join our online event where we shine a light on companies and leaders who are harnessing technology and innovation to address complex sustainability challenges in agriculture and in tandem building innovative bio-based products, businesses and value chains.
Join a session to hear from innovators solving real sustainability problems.
Learn about the activities of the Irish clusters who are helping companies through collaborative approaches and technologies.
Hear an exchange of views on what we need to do to for the marketplace to develop.
Event Format (Online via Zoom)
Speakers
James Gaffey, Co-Director of the Circular Bioeconomy Research Group at Munster Technological University
Dr. Julie Maguire, Director of Research, Bantry Marine Research Station
Robert Shine, Director, SAMCO Agricultural Manufacturing Ltd.
Barry Lynch, Technical Director, AgriNet
Moderators
Catriona Power, Manager, Circular Bioeconomy Cluster South-West
Kieran O'Donoghue, Manager, AgriTech Ireland Cluster