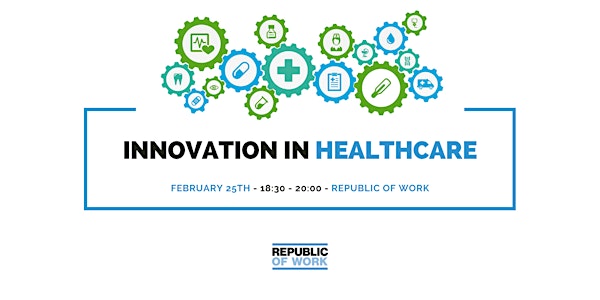 Innovation In Healthcare
In the first of a 2020 series of Innovation In... events we get the ball rolling with Innovation In Healthcare.
When and where
Location
REPUBLIC OF WORK 12 south mall T12 RD43 Cork Ireland
About this event
Healthcare is currently at the forefront of technology, with the industry becoming acutely aware of the need to become more and more innovative in order to make healthcare more accessible and to keep up with competitors.
REPUBLIC OF WORK presents Innovation In Healthcare. This event will give you the chance to hear from three leading industry experts on how these companies are using technology to bring their business to the next level.
Jane O'Flynn, HIHI Manager, Cork
Jane is the Cork Manager with Health Innovation Hub Ireland and is based in the Medical Engineering Design and Innovation Centre (MEDIC) in Cork Institute of Technology (CIT). She liaises with healthcare innovators, be they companies, enterprises or healthcare staff. She manages projects and studies connecting innovation and the healthcare system. She advises innovators as to how might progress their ideas for new products and services and connects them with health care, regulatory, technical, research and development expertise as appropriate.
Prior to working at HIHI, Jane worked for 4 years in the Nimbus Research Centre in CIT leading and researching Software Applications, Internet of Things and Data Analytics projects with a particular interest in Assisted Living and Age Friendly applications. Jane has also worked for Keppie Design in Scotland, where she was part of the architectural design team for the New Royal Infirmary Edinburgh for 3 years.
Jane has studied Computer Science (MSc, HDip), Mathematics (BA) and Architecture (BArch).
Megan McCarthy, Halaxy EMEA Customer Service Lead
Megan is originally from Cork and a Graduate from University College Cork with a Bachelor of Commerce Degree. Her studies gave her an insight into a range of business avenues such as: Marketing, Accounting and Business Information Systems. On completion of her degree she had the opportunity to work in the Financial industry before moving to a consulting role with Deloitte in the Enterprise Applications field. She previously worked alongside clients in the Healthcare industry and her interests have led her to working for Halaxy, a Practice Management Software company, in the Customer Service Team.
The company was founded in Melbourne Australia by Lachlan Wheeler and Alison Hardacre. The software is designed, developed and maintained in-house, with Development and Testing Teams coming up with innovative ways to improve the technology for practitioners and patients. Halaxy established a Cork office in 2018 and the Service Team makes up another core aspect of the business. The Service Team provide over 17 hours a day coverage across two offices to be in touch with the community members and provide a quick turnaround for their queries.
Halaxy offers a cloud solution to practitioners and patients alike, with different requirements.Practitioners can manage their business and administrative tasks to best suit their needs and to focus on their Patient. The Patient can record their medical history and share information with their Practitioners while being able to access their records instantly anywhere in the world. The product features have evolved over time with the enhancement of technology. It continues to change and grow as technology innovations in healthcare are becoming more available to all users in the industry.
Eoin Fitzpatrick, laya Corporate Service Manager
Eoin has more than 20 years of experience in the world of Digital, working across a wide variety of industries before bringing his knowledge to bear on digital healthcare in a number of roles in laya healthcare. Laya, headquartered in Cork, are one of Ireland's largest private health insurers and providers of health and wellness services. Eoin will be sharing how laya try to match the innovations and efficiencies that digital can bring with the personal touch and great customer experience that laya's customers expect.