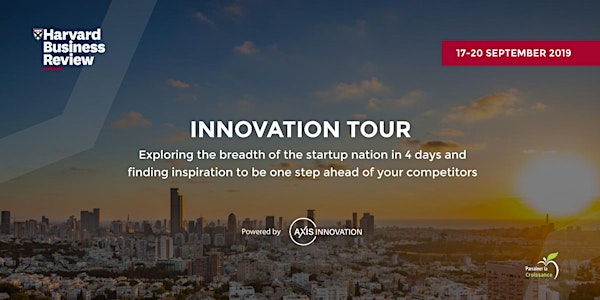 Innovation Tour - Harvard Business Review France, by Axis Innovation
By Harvard Business Review France and Axis Innovation
Date and time
September 17, 2019 · 1pm - September 20, 2019 · 12pm IDT
Location
Tel Aviv-Yafo Tel Aviv-Yafo, Tel Aviv District Israel
Description
Exploring the breadth of the Israeli innovation ecosystem in 4 days and finding the inspiration to be one step ahead of your competitors.
Our delegations of Harvard Business Review France friends provide attendees with a deeper understanding of the world's leading innovation ecosystem in a unique way through a combination of:
exchanges with experts in the Israeli ecosystem to better understand how Israel became "The Startup Nation"

keynote speakers: successful Israeli entrepreneurs who are driving Israel's high-tech scene

introduction to cutting edge technology startups


exciting high-tech sites visits

Networking during the DLD Tel Aviv High-tech Festival
Description
Axis Innovation, in partnership with Harvard Business Review, operates an innovation tour for French companies to visit Israel with Harvard Business Review France leadership and be inspired by the "Startup Nation". The delegation from France will be C-level executives, corporate innovation managers, investors, entrepreneurs or even startups seeking inspiration in the Israeli high tech ecosystem, improve his/her management techniques and have valuable networking opportunities. The Innovation Tour includes meetings with pre-screened and selected startups, global corporations, investors, accelerators, universities, co-working facilities, and more.
******** IMPORTANT NOTES********
The price for this Innovation tour is €4,200 per participant (VAT is not included) - a €200 per participant deposit will be required for registration (not refundable) - You'll be contacted later to finalize your payment within a month. Payment deadline: September 2nd.

Places are LIMITED. Book your ticket now UNTIL AUGUST 31ST.

HBR France Club members are entitled to a 30% discount for this tour > Become a member NOW!
- 2+ participants get a 10% discount
- 2 participants with shared room get a 15% discount
- 5+ participants get a 20% discount.
Your passport must be valid at least 6 MONTHS AFTER ARRIVAL DATE to Israel

The tour will be operated in English but French speakers will be leading the delegation

The tour will be operated by high quality providers including top level restaurants, hotels, comfortable and air-conditioned transportation

The tour program above is subject to change based on availability and number of participants - stay tuned for updates!

Full package: 3-day inspiration tour to the "Startup Nation": visits, meals, hotels and transportation are included. Tour price does NOT INCLUDE FIGHT TICKETS to Israel


Optional extension tour is available, operated by an external tour operator

Participant are responsible for purchasing travel insurance. Participants are solely responsible for any injuries or other health conditions related to this event.
Cancellation policy

The €200 registration/person fee is not refundable.
Cancellation can be made within 2 days with no additional fee, until June 30th with 20% charge fee, until July 31st with 50% charge fee, until August 31st with 100% charge fee.
For additional information, please contact:
Justine Olschanezky justine@axisinnovation.com or
Frédérique Dolce Rocca-Schmitt - Licenses director @Prisma Media fdolce@prismamedia.com - +33-173055624
Christelle Minoggio - Account Manager - @Prisma Media cminoggi@prismamedia.com - +33-173055289
About the organizer
À propos de Harvard Business Review France





Harvard Business Review, fondée en 1922 aux États-Unis, avec pour mission d'offrir aux dirigeants des clés pour conduire leur entreprise au succès, est aujourd'hui la référence dans le domaine de la théorie et des pratiques managériales. Harvard Business Review France aide les managers et dirigeants français à maîtriser les fortes perturbations qui bouleversent le business model de presque toutes les entreprises. La revue s'articule autour des grands enjeux auxquels sont confrontés les dirigeants : Leadership, Stratégie, Organisation, Innovation et Marketing. Elle met à leur disposition les réflexions les plus récentes et les plus innovantes dans tous ces domaines grâce à la participation d'experts, de chercheurs et de chefs d'entreprise du monde entier. Harvard Business Review est un titre qui nourrit la réflexion, mais aussi un outil pratique pour aider les managers à gérer leur entreprise et à promouvoir leur carrière. Harvard Business Review France c'est à la fois une revue bimestrielle, des hors-séries, des livres, un site et un club.




À propos d'Axis Innovation



Axis Innovation est une société de conseil basée en Israël qui joue l'intermédiaire entre toutes les parties de l'écosystème mondial des startups. Nous aidons les startups, les investisseurs et les entreprises à développer leur activité et à innover via 3 activités principales : le conseil en investissement, les événements de networking, l'Open Innovation (la recherche de startups dans un secteur ciblé pour des grands groupes internationaux). Notre atout réside dans notre expérience et notre connaissance approfondie des entreprises de tous les secteurs, nos relations solides avec les décideurs et notre capacité à identifier les meilleures innovations à un stade précoce. Depuis 2014, Axis Innovation su se démarquer et donner confiance en clôturant plus d'une douzaine d'investissements Early Stage, en organisant plus de 30 événements auxquels ont participé plus de 5 000 personnes, dont plus de 1 000 investisseurs. L'événement phare et annuel Axis Tel Aviv est un incontournable de l'écosystème des startups israéliens.




En participant à cette Learning Expedition, vous pourrez trouver inspiration, investir, créer des partenariats ou même décider d'acquérir une startup pour faire évoluer votre entreprise !