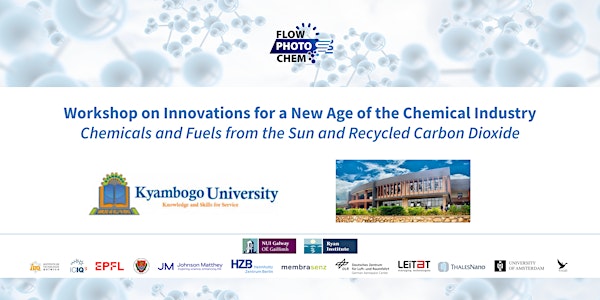 INNOVATIONS FOR A NEW AGE OF THE CHEMICAL INDUSTRY - IN PERSON
Chemicals and Fuels from the Sun and Recycled Carbon Dioxide
When and where
Location
Kyambogo University Kiwatule - Banda - Kyambogo Road Kampala, Mkoa wa Kati Uganda
About this event
Kyambogo University will host a delegation of researchers from 13 European countries from the 2nd to the 4th of November 2022. The researchers are working jointly on the European Union-funded project FlowPhotoChem that aims to develop an integrated system of reactors to convert sunlight and Carbon Dioxide into ethylene and other chemicals and fuels. Ethlylene is a high value chemical with a global demand.
On 4th November, Kyambogo University will host a hybrid Exploitation Workshop, open to interested participants from industry and academia, including African researchers working in the field of solar-to-chemicals and fuel conversion, entrepreneurs, political representatives, representatives from EU diplomatic missions in Uganda.
During the workshop, the FlowPhotoChem partners will showcase their breakthrough innovations and asses the market readiness of African enterprises and countries to uptake and commercialise such innovations. The workshop will also serve as a networking platform to strengthen and foster new collaborations between the European partners and African researchers and enterprises for future co-development of FlowPhotoChem-related projects and outputs for the African Market.
If you would like to attend the event in person, you can register for this event.
If you would like to join us virtually, please register here.
Learn more about the workshop here.
For more information, you can also contact:
Dr. Justus Masa - Department of Chemistry, Kyambogo University
E-mail: jmasa@kyu.ac.ug
Tel: +256703933000
Learn more about the FlowPhotoChem project in this short video!
FlowPhotoChem has received funding from the European Union's Horizon 2020 research and innovation programme under grant agreement No 862453. The material presented and views expressed here are the responsibilities of the author(s) only. The EU Commission takes no responsibility for any use made of the information set out.