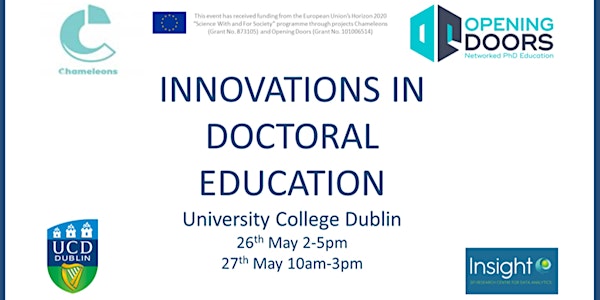 Innovations in Doctoral Education
A dynamic, informal face-to-face meeting focusing on creativity and jargon-free conversation across a range of interesting research topics
When and where
Location
O'Brien's Centre for Science, University College Dublin O'Brien's Centre for Science University College Dublin Belfield Ireland
About this event
It has been a while since many of us sat together in the same room, face-to-face, and had creative conversations about things we are passionate about. You are invited to join us to do just that on the 26th and 27th May 2022. This free event is brought to you through two EU funded projects, Chameleons and Opening Doors. Both projects focus on training and education for doctoral students beyond their disciplinary research projects. Both academic and non-academic audiences are very welcome to attend this event. Separate tickets available for each day.
Thursday May 26th; 2-5pm: You are invited to attend an "Innovation Jam" with people from all different backgrounds. The aim of this session is to work in collaborative groups on a societal challenge using the "Design Thinking" approach for creative thinking, along with a deep listening approach as a means of effective communication. Groups will present their solutions at the end of the session and there will be a prize for the audience vote for best idea. This is a fun, informal way to re-connect with our communities while learning something at the same time. You will leave this session energised by dialogue and creativity--skills that may have been lying dormant in you for a while! The expected outcomes of this event are: a) a fun opportunity for dynamic, interdisciplinary collaboration; b) the application of design thinking to address societal challenges; c) the practice of deep listening skills; d) new connections.
Friday May 27th; 10am -3pm: You are invited to attend this conference day, which will involve both keynote talks and audience discussions on a wide variety of topics. PhD candidates who are developing their skills in communicating with non-academic audiences will present both posters and "Oral-in-3" presentations on a wide range of topics, drawn from Connected Health, Open Science, Citizen Science/Patient-Public Involvement. You will be invited to cast your vote for the best presentations and participate through audience interaction. Lively conversations over coffee breaks and lunch are a must! You will leave this session with new connections and perspectives on how we can talk about research to communities beyond academia such as patient advocate groups and industry partners. The expected outcomes of this day are: a) shared learnings about transferable skills training in doctoral education with respect to skills in open science, intersectoral collaboration, interdisciplinary research in Connected Health, post-PhD career planning; b) reflections on how academics can communicate better; and c) new connections.
Time Item
10.00-10.45am Open Science in Research Careers; Speaker Dr. Mark Daly, SFI
10.45 -11.30am Posters & Coffee
11.30 – 12.15pm Keynote: Ms Kim Coogan Transition to the Workplace
12.20 – 1pm Oral Presentations
1-1.45pm Lunch & Posters
1.45-3pm Oral Presentations
3-3.30pm Prizes and Close