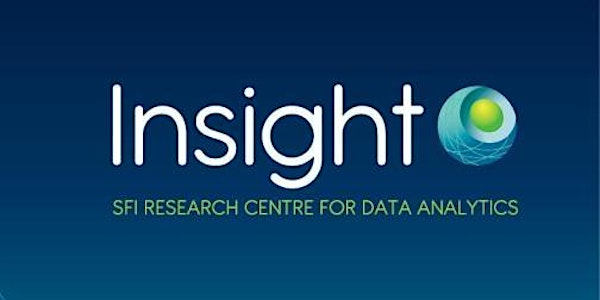 Insight Showcase event - Smart Surroundings
Insight Showcase - Smart Surroundings
When and where
Location
The Helix, The Gallery, 2nd Floor Glasnevin Campus Dublin City University Dublin 9 Ireland
About this event
This showcase event "Smart Surroundings" will introduce you to some of our DCU based research leaders and their teams working on research solutions in the areas of sports analytics, computer vision, smart cities and sensors, among many more areas. Come hear more about our work in various disciplines and meet our doctoral and postdoctoral researchers who are, right now, working on perfecting these solutions. At our Insight showcase you will also have the opportunity to learn about the Centre's work and gain an understanding of the opportunities available to collaborate with us and the mechanisms for engagement.
The Insight SFI Research Centre for Data Analytics (http://www.Insight-centre.org) is an SFI funded Research Centre which brings together researchers from University College Dublin, NUI Galway, University College Cork, and Dublin City University, as well as other partner institutions, Trinity College Dublin (TCD), University of Limerick (UL), Maynooth University (MU) and Tyndall National Institute. It creates a critical mass of more than 400 researchers from Ireland's leading ICT clusters to carry out research on a new generation of data analytics technologies in a number of key application domain areas, such as Health and Human Performance, Smart Communities, Internet of Things, Enterprise and Services and Sustainability and Operations.
Insight Tour (optional)
Smart DCU Tour
Tour guide: Kieran Mahon, Smart DCU Projects Facilitator.
This is a short tour of Dublin City University (DCU) Glasnevin's campus which is one of the Smart Dublin districts.
Smart DCU leverages the DCU campus as a Smart City testbed where third parties fast-track their smart city innovations in a safe controlled environment. This is because it is a microcosm of a city, with all the features of the city except in miniature. A place where the campus is the city and the staff and students are the citizens.
Running Lab Tour - Reducing Running-Related Injuries
Tour guide: Prof. Kieran Moran , Insight Principal Investigator & School of Health and Human Performance DCU
Recreational running is extremely popular due to the health and social benefits. However, over 50% of all runners will get at least one injury each year. This injury is invariably due to high loading relative to tissue strength. We have developed an app (Insight SoftRun) incorporating a wearable sensor that can teach runners to run more 'softly', thereby reducing the likelihood of running-related injuries. Come see this work in action in our Lab.
Meeting point: Outside the Helix building DCU Glasnevin Campus. Note: pre-book your place on our tour when registering your attendance on Eventbrite.
Exoskeleton lab tour - more details to follow.
Tour Guide: Ronan Langan, Clinical Lead DCU Exoskeleton Programme, DCU.
The Exoskeleton programme is physiotherapist led service allowing persons with reduced mobility due to paralysis access the most advanced robotic technology available to allow them to complete sessions of supported walking facilitated by a trained handler. This tour will bring us to the treatment space in House 19, DCU glasnevin Campus to see the technology in action. We will have a live action demo with a paralysed service user. Tour participants will see the paralysed individual rise out of their wheelchair into standing and walking. Service lead Ronan Langan will describe how the technology works, the therapeutic features and an open floor Q & A will follow.
https://www.dcu.ie/exoskeleton/about-the-programme
*Closing date to register for our showcase is 12th October.*
#InsightSSS22 #Insightspotlight