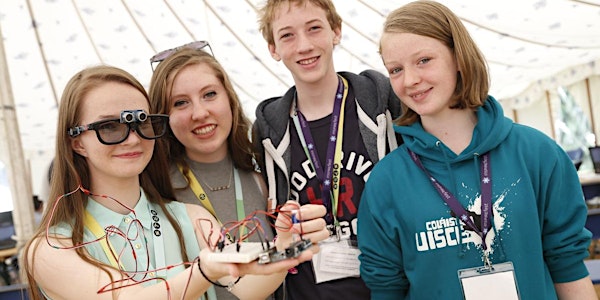 Inspirefest FAMILY FRINGE: Merrion Square Park, 2 July
Date and time
Sat, 2 Jul 2016 10:00 - 13:00 IST
Location
Merrion Square Park Merrion Square East Dublin Ireland
Description
Inspirefest Family Fringe brings together the leading Irish STEAM community groups: CoderDojo, Girls Hack Ireland, GameCraft, TOG, Hardie Kids, Coding Grace, TCD Walton Club, Physics Buskers, CONNECT and Dublin Maker who will be offering a whole range of activities. From coding and hardware hacking workshops to interactive exhibitions and games, there will be an abundance of activities for small kids (7+) and big kids too!
Admission to the Family Fringe is entirely free. We provide any materials and equipment you need. We do reccomend you register for workshops to secure your spot but there will be spaces for drop-ins on the day.
Workshops (Drop-in spaces available for workshops)
GameCraft Unplugged: Ever wanted to create your own game? This fun and creative workshop is suitable for adults and children. There will be some tabletop games for participants and guests to play and get inspiration from. Registration required

Girls Hack Ireland: Will host a wearables workshop. Here you'll find out how electronics, chemistry, computers, engineering and fashion all combine to create "intelligent" clothes. Suitable for adults and children 10+. Registration required

CoderDojo & Coding Grace: Coding workshops for adults & children 7+. No coding experience is required, families can learn how to code and develop creative websites and explore technology. Registration required

Interactive: Show & Tell Expos (No registration required - just walk in & have fun)
A Taste of Dublin Maker: Makers & Hackers of Dublin Maker will showcase some of their creative inventions.

Trinity Walton Club: TWC members aged 13/14 will showcase their STEM projects.

Imagine the Internet: This interactive and creative workshop will explore the key concepts of an Internet-of-Things network using art-based practices. Suitable for children 9-15 (approx.).

Registration NOT required.

TOG Dublin Hackerspace: Tog will have an interactive showcase of their innovative projects.

Hardie Kids: Hardie Kids is an interactive exhibition showcasing simple printed circuit board design and assembly.

Physics Buskers: 'Busking performances' involve interactive experiments and demonstrations selected for maximum engagement, excitement and education.
*Children & under 18s must be accompanied by a guardian at all times, unaccompanied minors will NOT gain entry into Inspirefest Family Fringe.
About the organiser
Inspirefest is a truly unique international festival of technology, science, design and the arts, which also happens to place diversity and inclusion at its heart.