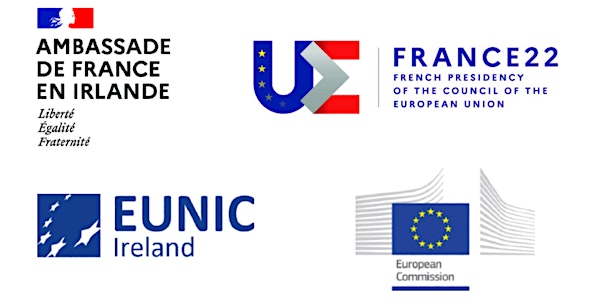 Inspiring Plurilingualism: Stakes and perspectives in Europe
European conference on the promotion and developpment of plurlingualism in Ireland.
By Ambassade de France en Irlande
When and where
Date and time
Tue, 29 Mar 2022 09:30 - 13:00 IST
Location
Eurofound Conference Center Wyattville Rd Loughlinstown Dublin Ireland
About this event
Conference
INSPIRING PLURILINGUALISM: STAKES AND PERSPECTIVES IN EUROPE
Tuesday 29th March 2022 – 9.30 am
at Eurofound Conference Centre, Dublin 18 & Online
Admission Free
Simultaneous interpretation available in 8 languages:
English, French, German, Bulgarian, Italian, Portuguese, Polish and Greek
Presented as part of the French Presidency of the EU Council in association with EUNIC Ireland and the European Commission in Ireland
---
Language education is an educational priority promoted by the Council of Europe as an asset for fostering intercultural dialogue, democratic citizenship and social cohesion.
A better knowledge of Europe's modern languages will facilitate communication and exchanges between Europeans of different mother tongues, thereby promoting mobility, mutual understanding and cooperation in Europe and eliminating prejudice and discrimination.
As France holds the presidency of the EU Council for the first six months of 2022, it wishes to provide strong support for the development of the plurilingualism of citizens and the multilingualism of states.
The construction of a European identity for young people requires the learning of at least two foreign languages. This principle of multilingual education is widely shared in Europe, but it is sometimes difficult to implement.
It is in Dublin, in an Ireland characterised by a strong Irish language/English bilingualism and which has set up a "new momentum" towards multilingualism that the French Embassy in Ireland, in partnership with the EUNIC-Ireland network, is organising an exchange between Europeans specialised in these matters.
The round table will be interpreted in 8 languages (English, French, German, Bulgarian, Italian, Portuguese, Polish and Greek)
Opening remarks by Minister of State for European Affairs, Thomas Byrne T.D. and H.E. Vincent Guérend, French ambassador to Ireland
Event moderated by Dr Déirdre Kirwan
PROGRAMME
9:30-10:00AM – OPENING
Thomas BYRNE T.D., Minister of State for European Affairs
Vincent GUEREND, Ambassador of France to Ireland
10:00-11:00AM - SESSION 1: Plurilingualism as a "way of Being" in Europe
What approaches for language education policies in Europe?
Monica BARNI (Italy), Professor of Educational Linguistics - University for Foreigners of Siena: Why is it important to learn one or more languages since childhood? The Italian model
Karen RUDDOCK (Ireland), Post Primary Languages Ireland Director: Support for Plurilingualism - Languages Connect: Ireland's Foreign Languages in Education Strategy
Dimitar KAMBOUROV (Bulgaria), Lector of Bulgarian language, literature and Culture in Trinity College Dublin: Bulgarian Model – a strong egalitarian tradition
11:00AM-12:00PM - SESSION 2: Innovative practices
Focus on innovative practices to facilitate communication and exchange between Europeans with different mother tongues
Arnd WITTE (Germany), Emeritus Professor of Modern Languages, Maynooth University: Teaching and Learning Modern Foreign Languages – Best Innovative Practice in Germany
Dr Stella STRZEMECKA (Poland), Lecturer at the Institute of American Studies and Polish Diaspora of the Jagiellonian University in Kraków: Growing up multicultural and multilingual: the experiences of Polish migrant children in Norway and their relevance for Ireland.
Dr Giorgos PAPANTONIOU (Greece), Assistant Professor in Ancient Visual and Material Culture at Trinity College Dublin: Fostering Greek language and culture in Ireland
Carlos CEIA (Portugal), Professor of English Studies at the Faculty of Human and Social Sciences, NOVA University of Lisbon: Innovative practices at university language institutes to promote multilingualism effectiveness
12:00-12:30PM - SESSION 3: Multilingualism as a factor of inclusion in education and society. The role of digital technology.
Language learning and use should be a place to experience diversity but also inclusion.
Antoine DESTRES (France), Paris Academy Director: The bilingual schools' curriculum in Paris, factor of attractiveness and inclusivity for public schools
Dr Kenia PUIG (Ireland) , Education Officer and Teaching and Learning Manager at PPLI: Driving Innovation, Inclusion, and Quality Teaching and Learning via Blended Learning courses
12:30PM – CLOSING REMARKS
Jonathan Claridge, Deputy Head of the Representation of the European Commission in Ireland