Inspiring Sustainable Tourism 'Building Back Better' Wednesday 20 January 9.15am-3.30pm
About this event
Inspiring Sustainable Tourism
'Build Back Better'
Wednesday 20 January 2021 9.15am-3.30pm
Following the huge success of last year's conference, this year's Inspiring Sustainable Tourism event is a must for future-focused tourism businesses that want to improve their sustainability credentials and for businesses that keep a careful watch on:
The ever-growing connection between environmental and business sustainability
Consumer trends and demands
Risk reduction
Staff satisfaction and retention
Maintaining a competitive edge
Our online conference will be packed with insights from both international and Irish leaders in their fields. We will offer practical workshops and advice, as well as inspiration from ordinary business owners that have transformed their operations and taken the lead in responsible and sustainable tourism.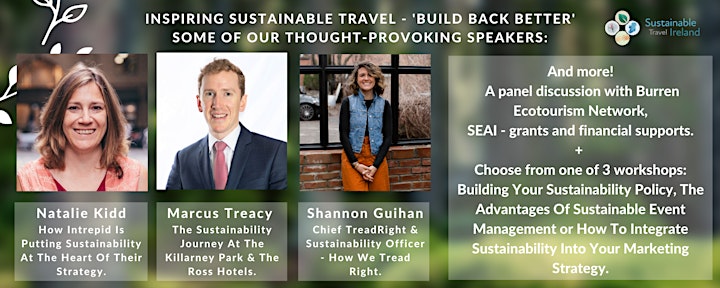 Our fantastic line-up includes:
Rob Rankin - Welcome
Director, Sustainable Travel Ireland
Welcome
9.15am-9.25am
Colm O' Regan
Award-winning broadcaster, author and comedian
It Ain't Easy Being Green
9.25am-9.45am
Colm is a critically acclaimed and award-winning broadcaster, author and comedian who has increasingly focused on environmental issues. He's about actions as well as words. As chairperson of his local environmental group since 2013, he has organised monthly clean-ups and connected with schools and other community groups to increase awareness of environmental and littering issues. Through his Irish Examiner column, he has written on climate change and other environmental topics.
Orla Carroll
Director of Product Development with Failte Ireland,
9.45am-10am
Orla will detail how reducing the carbon footprint of the tourism sector is now a pillar in Failte Ireland's strategy.
Natalie Kidd 
Chief People and Purpose Officer, Intrepid
How Intrepid is putting sustainability at the heart of their strategy
10am-10.45am
Intrepid Travel is the world's largest provider of sustainable, experience-rich travel experiences. Globally recognised as a leader in responsible travel, Intrepid's portfolio of three specialist tour operators and 25 Destination Management companies take more than 350,000 travellers to more than 120 countries on all seven continents. Intrepid supports eight SDG goals, has advocated on issues such as climate action, animal welfare, child protect and gender equality, is a certified B-Corp and has been carbon-neutral since 2010.
Break - 10.45am - 11am
Dearbhla Stapleton
Programme Manager, Business and Industry, Sustainable Energy Authority of Ireland (SEAI)
Grants & Financial Supports To Help You Reduce Your Energy Costs & Decarbonise Your Business
11am-11.45am
The benefits of decarbonising your business are well known now and include cost savings, enhanced brand and reputation, customer attraction, and attracting and retain staff. Dearbhla Stapleton will talk you through how can you decarbonise and what supports are available to help you along this path.
Panel Discussion
Burren Ecotourism Network (B.E.N.)
How To Make Community Tourism Work
11.45am-12.30pm
Fresh from being awarded the title of Best Community Tourism Project in Lonely Planet's Best in Travel 2021 list, members of B.E.N. join us for a panel discussion on the challenges and rewards of community tourism. The panel is made up of Jarlath O'Dwyer (CEO B.E.N.), George Quinn (Hyland's Burren Hotel & Member and Chairman of the Board of B.E.N.), Carol Gleeson (Manager of the Burren & Cliffs of Moher UNESCO Global Geopark) and Ciara O'Halloran (Flaggy Shore Oysters & Member of B.E.N.).
Lunch 12.30pm-1.15pm
Marcus Treacy 
The Killarney Park & The Ross Hotels & Killarney Hotel Sustainability Group
Our Sustainability Journey At The Killarney Park & The Ross Hotels And Why We Formed The Kerry Sustainability Group
1.15pm-1.45pm
A founding member of The Killarney Hotels Sustainability Group, Marcus Treacy talks us through the sustainability initiatives that have been undertaken at The Killarney Park & Ross Hotels, the benefits from the changes and the response from customers. He will also tell us about The Killarney Sustainability Group that encompasses a group of 20 hotels.
Shannon Guihan 
Chief TreadRight & Sustainability Officer
How We Tread Right
1.45pm-2.30pm
A not-for-profit created as a joint initiative between The Travel Corporation's (TTC) family of brands, The TreadRight Foundation has supported 55-plus sustainable tourism projects worldwide to date. Leading the charge is Shannon Guihan, a tourism development specialist who has worked with brands and destinations worldwide to monitor and reduce the impact of their tourism operations. Shannon currently oversees all sustainability efforts within TTC, including its five-year sustainability strategy. Shannon will also tell us about TreadRight's Make Travel Matter experiences that have been identified in Ireland.
Final Words From Sustainable Travel Ireland
Sustainable Travel Ireland
2.30pm-2.40pm
Workshop Of Choice
Choose from three different workshops. Each one will be delivered by one of Sustainable Travel Ireland's panel of training experts.
Building Your Sustainability Policy - delivered by Sarah Blake
The Advantages Of Sustainable Event Management- delivered by Peter Reelfs
How To Integrate Sustainability Into Your Marketing Strategy - delivered by Gill Wilson
2.40pm-3.40pm