Event Information
Location
College of Mercy, Beaumont, Dublin 9
Beaumont Road
Dublin 9
Ireland
Refund policy
Refunds up to 7 days before event
November 2021 - Instructor and Technical Course
About this event
After the success of the Virtual session with the new INTA Technical Committee in April, we are delighted to be back for our first in-person Instructor and Technical Course.
The session is open to all members of the INTA from 4th Kup and above and will be particularly important for Instruuctors, Assistant Instructors and those considering grading for Black Belt and above this year.
The weekend course will feature a mixture of workshops covering the entire range of ITF Taekwon-Do. Structured over the course of the weekend, the workshops will cover:
Patterns from Chon-Ji to Tong Il
Dedicated pattern sessions for your grade
Drills to supercharge your sparring
Improving grading performance
Building your strength and speed
The new Technical Committee includes the following highly respected instructors:
Master Gerry Martin - VIII Degree
Master Terry Donnelly - VII Degree
Master Nicolae Mesina - VII Degree
Master Kevin Hannigan - VII Degree.
As this is the first in-person course since November 2019, priority will be given to those who wish to attend the full-weekend and those tickets will go on sale first. Tickets for Saturday only on Sunday only will be on sale from Monday 18th October.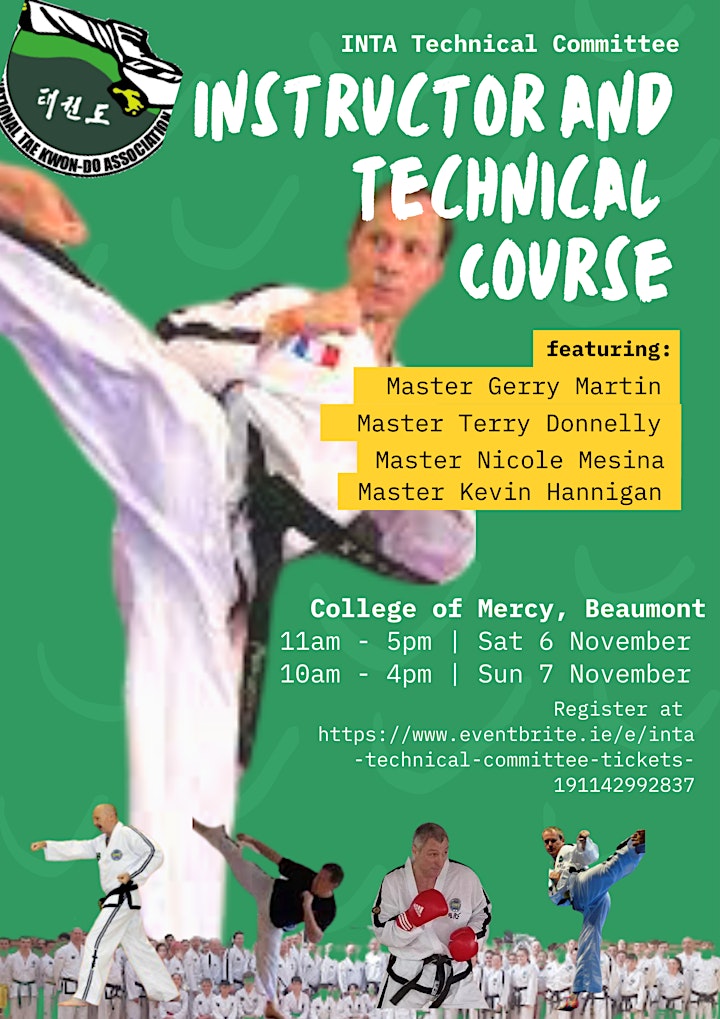 Date and time
Location
College of Mercy, Beaumont, Dublin 9
Beaumont Road
Dublin 9
Ireland
Refund policy
Refunds up to 7 days before event