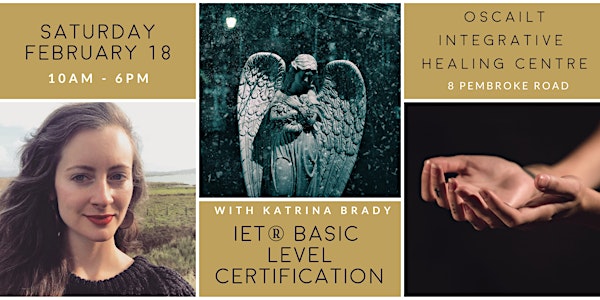 Integrated Energy Therapy® Basic Level Course (Angelic healing)
Saturday, February 18 from 10am - 6pm €180 Integrated Energy Therapy® is a beautiful healing technique that uses angelic energy
When and where
Location
Oscailt Integrative Health Centre 8 Pembroke Road Ballsbridge Dublin Ireland
Refund Policy
Refunds up to 7 days before event
About this event
Saturday, February 18 from 10am - 6pm
€180
€170 unwaged
Integrated Energy Therapy® is a beautiful healing technique that uses angelic energy to clear emotional blockages from the body, and in later levels, the aura
Within this Basic level certification, you will be attuned to this high frequency energy of IET®, will learn techniques such as the Angelic Heartlink which enables you to automatically connect with your healing angels, and also how to facilitate a healing through clearing physical and emotional energy blockages from the cellular memory and leave in their place positive physical and emotional memory instead.
"IET supports you in safely and gently releasing limiting energy patterns of your past, empowering and balancing your life in the present, and helps you to reach for the stars as you evolve into your future. We chose the term "Integrated" in our name to convey our healing vision of "integrating the pain of the past, into the power of the present, to bring about the joy of the future". We have been privileged to see Integrated Energy Therapy live up to this vision." https://www.learniet.com/what-is-iet/
The benefit of learning IET® is not only to help others, but also to facilitate your own healing. Being attuned to such energy truly transforms your relationship with the angelics, making it easy to connect and receive support. Over time and with use you begin to physically feel that which you cannot see. You have the ability naturally of course, IET® training just pushes that door more open for you with love and support.
You will also receive the official IET® Basic level training manual that goes into depth with all of this information and a certificate.
This is different than reiki as it is angelic healing and uses a specific system of energising and releasing specific emotional block in particular areas of the body. If you progress to the Intermediate and Advanced levels, you learn even more techniques, some of which allow you to release these blocks not only within the body but also the aura which adds a whole other unique dimension to this healing modality. If you have any questions at all, please don't hesitate to ask!
This certification is facilitated by Katrina Brady, an IET Master-Instructor who has used this healing modality since 2011 and teaching since 2014. After using this modality for over a decade, she has truly seen the benefit within herself and also her clients. Interestingly, her clients always are able to tell a difference between IET and other healing modalities they've tried. She works solely with IET® within her private practice when using a non-talking healing therapy as it is the most effective.
This class is also falls within the dark moon phase leading up to the New Moon in Pisces. In the days leading up to a New Moon, we enter into the stillness of the feminine. During this process, we prepare to shed and release that which no longer serves us to create more space for what we would like to invite into our lives with the near rebirth of the cycle. We will work with energy within the class, combining Katrina's love of astrology and healing work.
The day course is in Oscailt Integrative Healing Centre in Ballsbridge, Dublin. It is a very tranquil space that is easily accessed by car or public transport. There is also free parking minutes away at the weekend and loads of different lunch options nearby.
Spaces are very limited for the course. If you'd like to reserve your place please feel free to book through eventbrite or contact Katrina directly to do so through revolut.
Katrina will also be facilitating the Intermediate level in Spring 2023, should you want to continue your IET education thereafter.