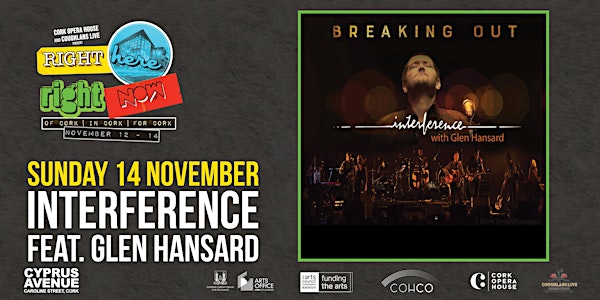 Interference feat. Glen Hansard
.
When and where
Location
Cyprus Avenue Caroline Street Cork Ireland
About this event
Coughlans Live & Right Here Right Now Festival presents:
INTERFERENCE featuring GLEN HANSARD
Interference are the legendary Irish band based around singer-songwriter Fergus O'Farrell. Their sound has influenced a generation of Irish musicians. O'Farrell began his musical journey while still in school forming the band with James O'Leary and teaming up with Malcolm MacClancy to write songs. To this day the musical collective he called interference continue to work and perform together, and when they do play live it is considered an event not to be missed, this group have an almost mythical status amongst their peers.
A film documentary 'Breaking Out' , based on the life of O'Farrell will be released in November 2021. It won the Galway Film Fleadh Best Film Documentary award and more recently the very prestigious George Morrision feature documentary award at the IFTA's.
Filmed over ten years it follows O'Farrell and his band from their own recording studio set up in Dublin in the early '90's to their triumphant performance in Radio City Music Hall in 2008 with Glen Hansard and the Swell Season and onwards to the last recording sessions, O'Farrells' sudden passing in early 2016 and the release in 2017 of O'Farrells' last album.
They were featured in the Academy award winning movie 'Once' .This Movie went on to inspire the Tony Winning Musical of the same name which has played repeatedly on Broadway and The West End, it has toured across America multiple times and has had other notable productions in Australia, Canada, Ireland, Korea and Argentina. O'Farrells song 'Gold' features strongly in the musical and is more often than not the song of choice for the cast to sing when making television and promotional appearances.
In 2018 The Trinity College Music Society inducted Interference into the College faculty in recongition of O'Farrell and their contribution to Irish Music.
Interference still perform live, often with Hansard assuming lead vocals or as their alter ego Dogtail Soup.
Element Pictures will bring the film Breaking Out to Irish Cinema on 19th November 2021 and to celebrate this long awaited release Interference will be performing three shows in Dublin, Cork and Galway. There will also be a soundtrack album released to all streaming platforms also entitled 'Breaking Out' to accompany the film , painstakingly re-engineered from the original recordings by DanDan Fitzgerald in SoundSound Studio in Cork and re-mastered by the extraordinary Bob Ludwig of Gateway Mastering Studio, Portland, Maine, USA.
COVID-19 Policy:
Please note that all ticket holders must produce a FULLY Valid Covid Certificate upon entry.Unsure of what criteria constitutes a valid Covid certificate? See the link below for ways you can obtain one