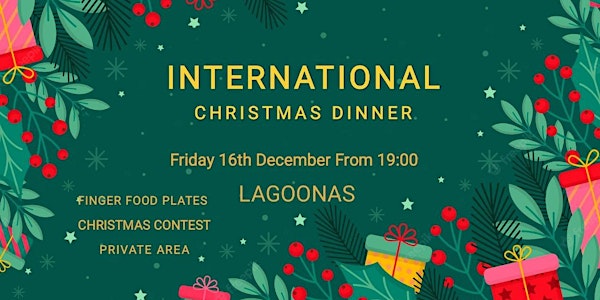 INTERNATIONAL CHRISTMAS DINNER
Welcome to our International Christmas Dinner!!!! There will be food, drinks, contests and, above all, lots of fun
When and where
Location
Lagoona Mayor Street Lower, North Dock, Dublin, D01 DE47 IFSC Dublin 1 Dublin Ireland
Refund Policy
Contact the organizer to request a refund.
About this event
There will be a bunch of fun conversation starters on each table so you can skip the small talk and awkward silence!
Our mission is help you make meaningful connections with other people in Dublin. You never know, you might just meet your new best friend, a workout buddy, or maybe even the love of your life! The only way to find out is to give it a chance!
So whether it's your first time or you've been with us since the very beginning: everyone's welcome! Just bring your good mood, open mind and a willingness to socialize :)
Timetable:
The event is open from 19:00. As soon as you enter, you will be assigned a table. During this time, take the opportunity to order your drink and have a chat!
Around 20:00, the food will be served. There will be the typical finger food plates (chicken wings, sausages, onion rings, potatoes etc...).
At 21:30, the Christmas quiz will start.
We will have the following:
Luxury finger food platters
Christmas Contest
Private Area on Lagoona Pub
Admission is from 19:00 to 20:30.
How does the contest work?
At the entrance, you will be asked to enter, via a QR code, a Whatsapp group that will be created, with the sole purpose of being able to send there the links to the forms to vote and share the pictures.
At 21:30, a link will be sent out on the above-mentioned whatsapp group. In it, there will be different questions related to Christmas. It will be necessary for everyone to register with their own email to vote.
The 3 best qualified people will get a reward!!!!
How does the Secret Santa work?
Attendees are asked to bring a gift (maximum budget €10), preferably covered, either with wrapping paper or a plastic bag. On arrival, they will be given a random number. They are asked to keep the number (or, failing that, to write this number on their mobile phone so as not to forget it). Another (different) number will also be given to the gift.
Once the dinner is over, the numbers will be called out. When a number is called out, this person must come, find the gift with their number on it and take it.
Important information
As seating is limited, all tickets will be sold before the event.
Under no circumstances can any type of food or drink be brought in.
Cider, beer, spirits and cocktails are served inside. Non-alcoholic beverages are also served.
To enter, you must present your Event Brite ticket.