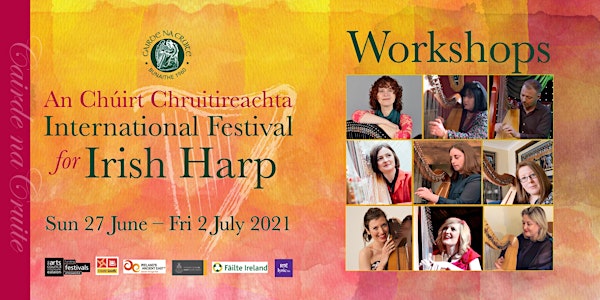 International Festival for Irish Harp 2021 | Workshops
International Festival for Irish Harp 2021 | Workshops Only Package
About this event
HARP FESTIVAL 2021 | Workshops Only Package
5 superb Harp Workshops, Monday to Friday from 11:00am to 12:30pm with the top Irish Harp tutors:
Máire Ní Chathasaigh, Gráinne Hambly, Áine Ní Dhubhghaill, Anne-Marie O'Farrell, Cormac de Barra, Kim Fleming, Deirdre Granville, Deirdre Ní Bhuachalla, Úna Ní Fhlannagáin.
Cairde na Cruite's International Festival of Irish Harping includes Morning Workshops, Lunchtime Concerts with the Rising Stars of Irish Harping, Afternoon Events, Evening Concerts, Early Irish Harp, Harp Play-alongs, Talks & Lectures, Songs and Stories, Harp Makers and much more. All online for one week from Sunday 27 June to Friday 2 July. You can book the full package of Workshops, Afternoon Events and Concerts at International Festival for Irish Harp 2021 | An Chúirt Chruitireachta 2021 on Eventbrite.
Download the Festival Programme from the Cairde na Cruite website.