About this Event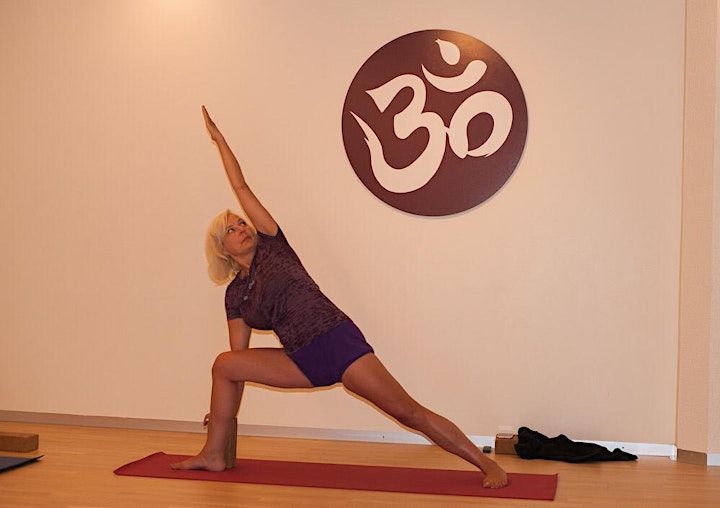 Senior Level Certified Iyengar Yoga Teacher, Rachel Lovegrove is returning in April 2020 to run a weekend of Iyengar Yoga (3rd to the 5th April) in the Stella Maris Centre in the picturesque village of Kilmore Quay in the South East of Ireland.
Rachel has over 20 years experience teaching Iyengar yoga classes, workshops, and intensives and has run retreats in Portugal, Italy, Spain and the UK as well as weekend retreats in Ireland. Her teaching style is pragmatic and gently challenging and has won her many followers, with her teaching skills in much demand across Europe and with students coming from all over the world to regularly participate in her events. She spent 12 years teaching and living in Portugal before relocating back to the South of England in 2018. She has been visiting Ireland to teach since 2010 so 2020 will be her 10th anniversary!
We are always delighted to welcome Rachel back to Wexford to this beautiful location in the Sunny South East of Ireland. The weekend will appeal to those who have at least six weeks experience of Iyengar yoga to teachers, trainees and more experienced students of all styles of yoga
The weekend will open on Friday evening with a welcome session from 6.30 to 8.30. On Saturday the day begins with a morning session from 9.30 to 12.30, a break for lunch, and an afternoon class at 1.30 to 3.30. The sessions will be steadily paced to suit all levels of experience and ability. The Sunday morning class will run from 9.30 to 12.30 leaving plenty of time for onward travel or for exploring the wonderful location and surroundings areas of Kilmore Quay.
The attractive setting of the picturesque fishing village of Kilmore Quay has much to offer visitors, including the peaceful memorial garden honouring those who lost their lives at sea, exhilarating seaside walks, a safe beach for swimming, boat trips to the nearby Saltee Islands' abundant birdlife, including a large colony of puffins, and quaint atmospheric cafes, pubs and restaurants.
There are excellent accommodation choices available and we recommend The Wooden House which has self catering apartments as well as choice of rooms and can be booked through booking.com. Kilmore Quay is a two hour pleasant and easy drive from Dublin with good transport links from Dublin Airport and Rosslare Harbour.
We can assist with advice on accommodation and transport and sites of local interest to visit. Don't hesitate to contact us with any questions. (maryduane6@gmail.com). You can find more information about Rachel from her website at orangetreeyoga.com.
Thanks to Jackie Hayden for permission to use the Kilmore Quay Marina photo from his 'Sea Fever' book about Kilmore Quay's fishing community.
EARLY BIRD PRICE: TO END OF JANUARY 2020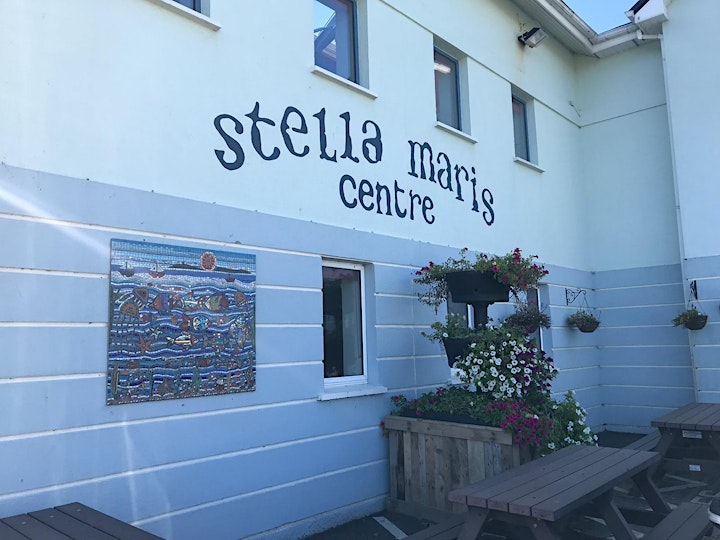 Our first group in the Stella Maris Centre in October 2019.!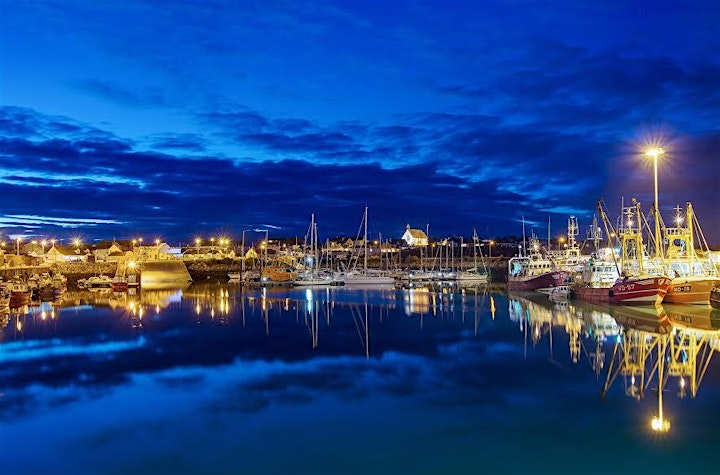 Kilmore Quay marina at night...