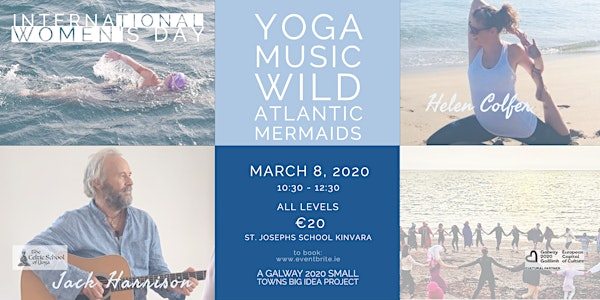 International Women's Day Yoga Music Mermaids-Jack Harrision & Helen Colfer
Location
St Joseph's National School
St Joseph's NS
Kinvara
Ireland
Feel alive at this music and yoga morning. Music that will connect your movement and breath. Yoga to nourish your mind, body and soul.
About this event
Booking in advance is required.
Jack Harrison is a Certified Anusara Yoga Teacher, folklorist and musician. He has worked and studied in all three of these areas for the last 30 years and integrates these paths together in the Celtic School of Yoga and Music Workshops. They include music, poetry, myth and yoga. He is a principal author of a seminal book on the parallels between yoga and the Celtic world and he has also recorded three acclaimed albums of yoga music. His teaching is very much based on the changing rhythms of these latitudes and the vital importance of breath in asana. Since 2007, Jack has travelled internationally to give workshops, intensives and teacher trainings and teaches with a strong influence from the Celtic tradition. His teachings and practice explore how it is to ally movement of the body with breath, focus, mythology, poetry, music and the natural world—and the astonishing fact of being alive.
www.jackharrison.com
Helen Colfer is a native of Kinvara. Having the The Celtic School of Yoga in her own back yard, Helen trained and qualified as a 200 hr registered Yoga Teacher. Helen brings her own personal style to her practice and teaching. With the Burren landscape, the waters of the Atlantic and all the surrounding nature to draw from Helen takes her classes on a journey that will reconnect you with the natural rhythm of the earth, sea and sky.
A lover of the sea and a year round swimmer as a Wild Atlantic Mermaid she can be found most every day on the Wild Atlantic Way taking to the waters with her community of fellow mermaids. She is a co-creator of the Atlantic Masters Swimming Club founded in 2014, and has competed in 'big swims' including the Galway Bay 13.5k, Lough Gill 10k, and she is an official English Channel Swimmer as part of a three person relay team that swam the channel in 2018.
Pier to Peer Kinvara - a Galway 2020 Small Towns Big Ideas project