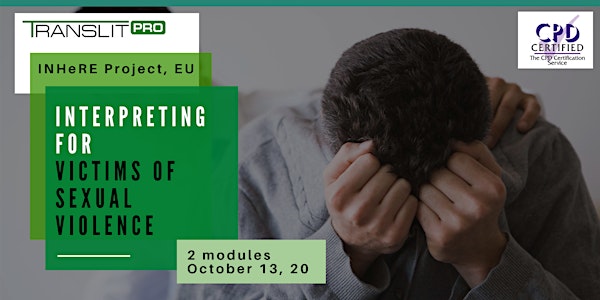 Interpreting for Victims of Sexual Violence [Modules 1 & 2]
Learn to provide high-quality professional service in this challenging setting, while protecting your own wellbeing. 2 classes 13 & 20 Oct.
About this event
This CPD-certified training is aimed at interpreters who undertake interpreting assignments involving victims of sexual violence. The training is offered thanks to the EU *INHeRE project.
Please note that the training is conducted in the ENGLISH language.
This training will help you to:
Understand the unique challenges and cultural implications of interpreting for victims of sexual violence;
Learn the fundamental principles of effective interpreting during face-to-face and a remote video session (VRI);
Understand the background of sexual violence in MAR context (MAR = migrants, applicants for international protection and refugees);
Learn ways to look after yourself to prevent or deal with vicarious trauma;
Practice interpreting for victims of sexual violence during roleplays based on real-life cases (roleplays and relevant information will be provided in advance);
Have an opportunity to receive constructive feedback from your colleagues;
Learn where to find information on relevant vocabulary and terminology.
Training Structure
This training programme consists of two sessions, each lasting two hours:
Module 1, Theory - October 13, 2021
Module 2, Practice - October 20, 2021
All traning is conducted in the English language. During Module 2 (Practical Training), participants are split into 4 groups according to their chosen working language:
Group 1: French / English
Group 2: Spanish / English
Group 3: Mixed group (non-language-specific)
Equipment:
It is strongly recommended that you access the training from a laptop, a PC or a tablet (rather than a cellphone). Headsets are also recommended to ensure a reasonable quality of sound during your roleplay performance.
A video camera is mandatory for Module 2 training due to its nature (practicing VRI - video-remote interpreting).
Certification
Upon successful completion of either one or two training modules, you will receive TRANSLIT's Certificate of Attendance.
You will receive an official CPD UK certificate awarding 4 CPD/CPE points if you successfully complete both training modules.
About INHeRE:
"Inclusive Holistic carE for Refugee and migrant victims of sexual violation in Belgium, Ireland and UK", INHeRE, is an EU-funded project launched on November 1st, 2019, whose aim is to improve holistic care for migrants, applicants of international protection and refugees who have been sexually victimized, regardless of their age, gender, sexual orientation and/or legal status.
===================
Looking forward to having you at the training. If you have any further questions please contact us at talent@translit.ie.
Your Instructors:
Group 1: French / English
Miriam T. Lee is an experienced French-to-English translator and French/English conference interpreter. Miriam is currently based in Dublin, Ireland, where she works as a translator/interpreter. Her interests lie in helping interpreters develop their skills in various settings. She holds a Postgraduate qualification in Interpreting and Translating and is a professional member of the Irish Translators' and Interpreters' Association).
Group 2: Spanish / English
Ana Lessa holds a Masters in Translation Studies (Spanish/Portuguese/English) in UCC. She has been working as a community translator in Ireland for several years. She is an associate member of the Irish Translators' and Interpreters' Association. Her interests are education and cultural mediation. She is a Portuguese Development Officer with Post Primary Languages Ireland
Group 3: Non-language-specific
Svetlana O'Farrell, TRANSLIT Training Development Manager. Svetlana's background is in providing business, language and training services. She has over thirty years' experience in translation and interpreting. Svetlana has created and run many live and on-demand courses and webinars for interpreters. Svetlana is a professional certified member of the Irish Translators' and Interpreters' Association.
Here is what our attendees say about TRANSLIT training:
***
"It was fantastic and very useful. Thank you so much"
"The webinar is really informative with practical knowledge, some of it are even new to me. I think it was very worthwhile."
"Well planned. You obviously took time to prepare, research, practice and present this in an efficient, clear manner."
"The program was very accurate, comprehensive and well explained. This program has reached all the important requests for an interpreter"
"The training surpassed my expectations. It was excellent and very informative. Thanks!"
"It was very good, or I would say an excellent webinar! I already enrolled in more of your courses to learn more about interpreting skills"
"I learned a lot after the webinar as I am quite new to interpretation. I am an experienced translator but have only ventured into interpretation recently. I was happy with the webinar."
"I really enjoyed the course: clear overview of this amazing job, including difficulties and troubles linked with it; useful resources to make research in many languages."