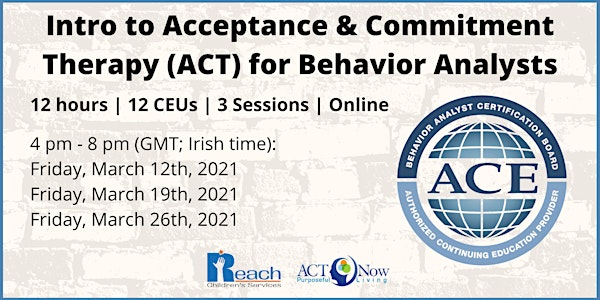 Intro to Acceptance & Commitment Therapy for Behavior Analysts | 12 CEUs
Intro to Acceptance and Commitment Therapy (ACT) for Behavior Analysts. Enhance your behavior analytic practice with ACT! | 12 BACB CEUs
About this event
Despite their shared theoretical foundations, behavior analysis and Acceptance and Commitment Therapy (ACT) are often employed separately, with ACT strategies severely underutilized by behavior analysts. However, given its extensive evidence-base and focus on increasing psychological flexibility, ACT is ideally suited for behavior analysts working with individuals that are prone to rigidity (e.g., individuals with autism). In this way, ACT enhances behavior analysis, allowing for greater precision with functional assessments, generalization of taught skills, and outcome longevity.
In collaboration with Reach Children's Services (authorized BACB continuing education provider), across three sessions, this intensive 12-hour workshop delivered via Zoom will provide an overview of the foundations of ACT, demonstrate how ACT and behavior analysis may be integrated to achieve optimal outcomes, and provide applied training in combining behavior analytic techniques with evidence-based ACT strategies. Attendees may opt-in to receive 12 BACB continuing education units (CEUs).
Schedule
This online training takes place via Zoom across three 4-hour sessions.
Friday, March 12th, 2021: 4 pm - 8 pm (GMT; Irish time)
Friday, March 19th, 2021: 4 pm - 8 pm (GMT; Irish time)
Friday, March 26th, 2021: 4 pm - 8 pm (GMT; Irish time)
Time zone converter: https://www.timeanddate.com/worldclock/converter.html
Cost & registration
€175 for complete access to the online training via Zoom. Reduced rate of €125 offered for students and unwaged/ low-waged attendees. 10% discount for members of our mailing list (join below). 20% discount for graduates of our Advanced ACT MBI Course. For an additional €10 processing fee, attendees may opt-in to receive 12 BACB CEUs. Registrants will receive a €75 discount for our upcoming 16-hour training with Dr. Evelyn Gould, ACT for individuals on the autism spectrum. Space is limited. To secure your place, sign up via Eventbrite.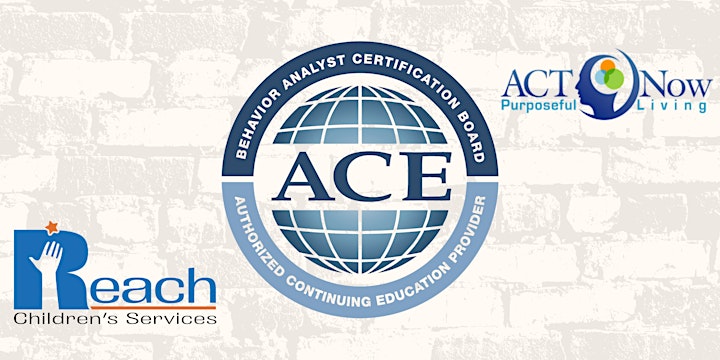 Who is this training for?
Behavior analysts, people working in organizations informed by applied behavior analysis, and people familiar with the behavior analytic approach who are interested in learning about ACT. 12 BACB CEUs available.
Prerequisites
Knowledge of behavior analysis and a familiarity with behavioral analytic techniques is essential.
Workshop Learning Objectives
Upon completion of this training, attendees will be able to…
Understand the foundations of the ACT approach (including its philosophical underpinnings and analytic goals).
Define psychological flexibility from a behavioral perspective (i.e., the ability to engage in valued action while connecting fully with the present moment with openness and awareness).
Incorporate ACT techniques into functional behavioral assessments to optimize outcomes for individuals in line with their unique learning histories.
Demonstrate components of ACT-consistent assessment and case conceptualizations.
Detail the commonalities of ACT and the behavior analytic approach.
Enhance traditional behavior analytic techniques for beneficially impacting socially significant behaviors with ACT while also facilitating generalization.
Apply ACT and behavior analytic techniques effectively across contexts, appropriately tailoring for the support needs of each individual.
Use ACT to effectively engage caregivers and other key stakeholders to promote and maximize long-term change.
Course content
Delivered by psychologist Aisling Leonard-Curtin, part one covers the foundations of ACT, providing a comprehensive overview of theory, practice, and research (6-hours). Part two, delivered by Helena Rose, Jose Fernandez-Mateos, and Barry Hickey, integrates ACT with behavior analysis, highlighting the effectiveness of this combined approach above and beyond behavior analysis alone and providing attendees with practical skills they can incorporate into their behavior analytic practice (6-hours).
Trainers
Aisling Leonard-Curtin
MSc Coun. Psych, C. Psychol., Ps.S.I.
Aisling Leonard-Curtin is a Chartered Counselling Psychologist and is a peer-reviewed Acceptance and Commitment Therapy (ACT) trainer and functional analytic psychotherapy (FAP) trainer. Aisling worked in the field of behavior analysis from 2007-2009. She also integrated behavioral analytic principles and ACT when she worked closely with Rita Honan, BCBA-D, for almost a decade. Aisling has experience working across a variety of settings including organizational, psychiatry, addictions, psycho-oncology, community, public, and educational settings. Aisling teaches on multiple university courses and regularly delivers ACT workshops internationally; most notably she has given workshops at Harvard Medical School and teaches at Trinity College Dublin at Doctorate level. She is a lecturer on the Masters in Coaching in UCC and the Masters in Pluralistic Psychotherapy at IICP.
Aisling is a published author, most recently co-authoring The Power of Small, a number one bestseller in Ireland. Aisling's first book, an edited volume co-edited by Dr. Matthew Skinta, Mindfulness and Acceptance for Gender and Sexual Minorities was published by New Harbinger. Aisling is keen to bring this transformative approach out to as many people as possible.
Helena Rose, BA (Hons) Psych, MSc ABA
Helena Rose is a contextual behavioral psychologist who completed her training at Trinity College Dublin. Since completing a 1-year applied course in Acceptance and Commitment Therapy (ACT) and mindfulness-based interventions directed by Aisling Leonard-Curtin, Helena has specialized in ACT. Helena works to provide her clients with practical tools to expand their comfort zones, contact the present moment, and clarify their values. Helena has over 20 years of experience working with the autistic community and, having lived in an autistic household and completed extensive training in the area, is extremely passionate about helping individuals in the autistic community to live meaningful lives for them. Helena is a passionate and dynamic speaker that owns being her authentic self and strives to bring compassion and humor to trainings she delivers.
Jose M. Fernandez-Mateos, BCBA
Jose is a Senior Behavior Specialist and Supervisor at Honan & Associates and a Positive Behaviour Support Specialist in St Catherine's Association, a non-profit making organization providing services to clients with disabilities. Having completed an MSc in Applied Behaviour Analysis at Trinity College Dublin and obtaining his BCBA certification in 2014, Jose has been working in the field of behavior analysis for over a decade. Upon completion of a 1-year applied course in ACT and mindfulness-based interventions directed by Aisling Leonard-Curtin, Jose became increasingly interested in how ACT can complement the use of ABA. Subsequently, Jose completed trainings with world-renowned experts in ACT and behavior analysis including Dr. Jonathan Talbox BCBA-D, Dr. Thomas Zsabo BCBA-D, and Dr. Alissa Wilson BCBA-D.
Jose has extensive experience with ABA, having worked with both children and adults experiencing intellectual disability and autism spectrum disorder, in addition to employing behavior analysis with typically developed individuals with mental health and/or behavioral difficulties. Jose is passionate about empowering other behavior analysts to combine and utilize ACT and ABA in their day-to-day clinical practice.
Barry Hickey, BA (Mod) Psych, MSc Psych ABA
Barry is the Behaviour Support Specialist in Sunbeam House Services, a charity providing services to adults with developmental disabilities in Wicklow, Ireland. He is also an Associate Behaviour Therapist at Honan & Associates, where he works primarily with high functioning individuals on the Autism Spectrum. He also maintains his own private practice providing support to individuals experiencing chronic pain.
Barry has more than 15 years' experience providing behavior support to children and adults with developmental disability and/or autism, and has extensive experience supporting individuals severely challenged by their environments. Largely because of the significant benefits he observed when ACT principles informed approaches to chronic pain, in 2018, Barry completed a 1-year applied course in ACT and mindfulness-based interventions directed by Aisling Leonard-Curtin. Since then, Barry has actively worked to incorporate ACT principles into all aspects of his professional activities.
Refund & Cancellation Policy
We will offer a full refund to registrants who cancel their registration up to 28 days before the training start date (minus administrative fees). If canceled up to 14 days before the training start date, registrants may request a 50% refund. If canceled within 14 days, no refund will be issued. Please email us at info@actnow.co to cancel a registration.