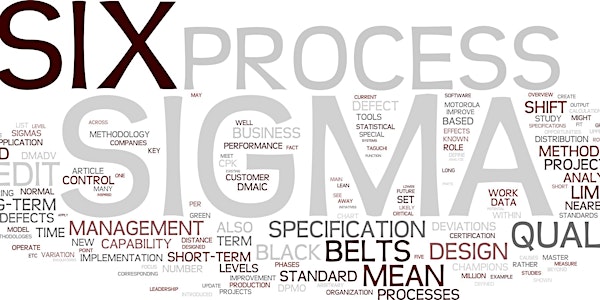 Intro to Lean Sigma MOOC (Link to 2019 MOOC: https://itsligo_leansigma_mooc...
Location
Institute of Technology Sligo
Ash Lane
Sligo
Ireland
Sales Have Ended
Registrations are closed
This page is for the Oct-Dec 2018 MOOC. Please go to our website for further information on the next running of the MOOC. https://www.itsligo.ie/onlinelearning/courses/free-courses/
Description

Register your Interest for the next running of our award-winning MOOC on Lean Sigma Quality. We will then email you instructions on how to access the online course prior to the start date.
This course is delivered 100% online - there is no requirement to attend IT Sligo to complete this course. There are approx 1.5 to 3 hours of course content and activities each week depending on your prior knowledge of Six Sigma. There are recorded video lectures along with a quiz each week.

This is the registration page for the 6th delivery of Institute of Technology Sligo's "Introduction to Lean Sigma Quality" Massive Open Online Course (MOOC) which starts with an introductory week on the 15th of October 2018 and runs until the 15th of December, 2018. All of the course content will be available via our online system called Moodle and lectures are recorded so you can watch the videos anytime. We are taking new registrants until the 1st of November, 2018.
Note that if you are leading a six sigma study group through the course, then you can register as a Group on Eventbrite and then send the group registration link to your work colleagues. Otherwise, just register as an Individual on Eventbrite.
Watch the introductory video on Youtube here: http://youtu.be/PwEql05abb0
Full details on the MOOC are available at https://www.itsligo.ie/onlinelearning/courses/free-courses/
Please share with your friends and work colleagues.