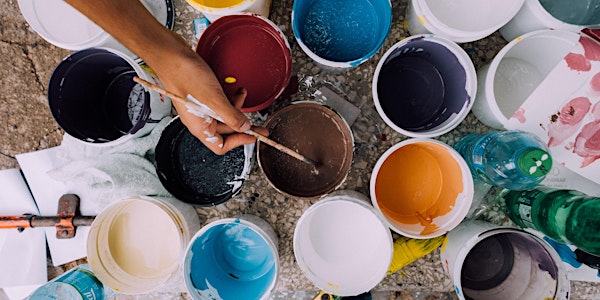 Introduction to Art Therapy - Short Online Course
An experiential course exploring the basic principles of art therapy
Refund Policy
Refunds up to 7 days before event
About this event
Dates & Times:
Friday 26th June 2020, from 6pm-9pm
Saturday 27th June 2020, 10am-4pm
Introduction to Art Therapy - Online Course
This course will introduce participants to the history, theory and clinical application of art therapy in Ireland and internationally. Presentations of case studies from clinical work with children and adults, and experiential art-making throughout, will allow participants to engage in the art therapy process and gain an awareness of the power of creativity. This practice, while providing an introductory understanding of how art therapy might work, will also offer a space for self-reflection through individual and group experience.
Together we will explore the relationship between art and therapy and how creativity can be used as a medium to allow us to find an additional language in reflecting on our experiences and feelings.
The number of participants is limited. The group is intentionally small so that everyone can get the most of an intimate space created online.
This course will be useful for:
Anyone wanting to take their first steps into exploring this field
Those who wish to further aid their creative and/or self-development
People who are working or training in the caring professions
Continuing professional development
Note:
Experience or knowledge of art or art making is not a requirement
This course is not a therapy group
The course does not qualify any participant to practice as an art therapist
Continuing professional development (CPD) certificate provided upon request
Course Dates and Fees
Date: Friday 26th & Saturday 27th June 2020
Times: Friday 6-9pm & Saturday 10am-4pm
Fee: 60e*
*The course is usually €120. The fee has been significantly reduced for the period of the Covid 19 crisis so that it is financially accessible for those who find themselves negatively affected at this time
Facilitator Bio's
Ed Kuczaj BA(Hons), Dip Art Th., MA, MIACAT
Ed Kuczaj is former head of the department of Arts in Health and Education at CIT Crawford College of Art & Design, Cork. Prior to this position he worked in the NHS in the UK, as an Art Therapy clinician and manager in the area of learning disabilities. He has published a number of articles and contributed to books in this area. During the time in the UK he was involved in the British Assoc of Art Therapists, serving a vice chair for a number of years. He moved to Cork in 2000 to lead the Art Therapy programme that had recently started there. In 2013/ 2016 he helped curate, along with Louise Foott/ Anne Boddaert/ Maeve Dineen, the Outside In and Perceptions exhibitions, which showcased the work of artists from supported studio settings. Since retiring in 2017, Ed has been involved in the Cork/ BVI Art Therapy Initiative, which worked in the British Virgin Islands, shortly after the occurrence of hurricane Irma, working in schools and with community groups.
Ed is currently chair of the Irish Association of Creative Arts Therapists.
Louise Gartland BA (Hons.), MSc. Art Th., Cert. Sup., MIACAT, MNIGAT, MEEAI
Louise is the founder and Director of Artonomy Art Psychotherapy Centre in Dublin where she runs her art psychotherapy and supervision practice. She has been involved with a number of experiential art therapy trainings in Ireland and abroad and contributes to journals and blogs about the creative arts therapies. She has worked with adults and adolescents dealing with a variety of issues, some of which include anxiety, depression, addiction, self-harm, suicide and sexual trauma. Louise has worked in many settings including educational, clinical, foster care, residential substance misuse treatment, forensic and international voluntary organisations with marginalised communities. One of her main areas of interest is environmental/eco art therapy. She has been involved in working with clients outdoors in nature (particularly in the area of addiction and grief) since 2007. Louise is currently vicechair of IACAT (Irish Assoc. of Creative Arts Therapists) and a member of EEAI (Ecopsychology & Ecotherapy Assoc. of Ireland) and NIGAT (Northern Ireland Group for Art Therapists).