Description
Update: This event is now booked out; however you can still contact me at isabellegaborit@gmail.com if you would like to be added to my waiting list.
Are you intrigued or curious about encaustic painting, an ancient painting process using pigmented molten beeswax?Are you art enthusiast wanting to discover a new versatile creative process in an intimate studio setting?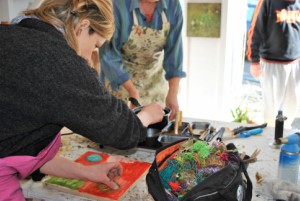 Then join Isabelle for a day introductory workshop, learning the ancient art of encaustic Painting right in the centre of Dublin City.
During the day long workshop, you will have the opportunity to discover the fascinating art of Encaustics, an ancient painting process using molten beeswax, resins and natural pigments.
You will be introduced to the basic techniques of encaustic painting, sharing its spontaneous virtues of working with texture and colors and its versatility with building up layers. You will have the opportunity to learn easy and effective techniques in a fun and relax atmosphere and create beautiful artworks to bring home.
Using an experimental approach to explore technique and manipulate the paint, you will be able to create a beautiful artwork and embellish it using a wide range of techniques
Date: Saturday 24Th February 2018
Time: 10-4pm
Location: A4 Studio, St Joseph's Parade, Off Upper Dorset Street, Dublin 1
Class limited to 8 participants.Early booking recommended to avoid disappointment.
Cost: €120, including all materials.
Art Classes for everyone: absolute beginners and developing artists alike.
Enquiries/booking: follow this link for more information or booking
Contact Isabelle at: 0872793819 or email: isabellegaborit@gmail.com
Once you register I will provide you with information how to prepare for your workshop session.
To see Isabelle's encaustic work click here

Facebook page: www.facebook.com/isabelle.gaborit.artist/
Instagram: https://www.instagram.com/isabellegaboritencaustics/
Subjects covered during the introduction class:
• Safety, ventilation, corrects working temperatures, and proper use of equipment.
• Appropriate supports and grounds, palette, brushes, colors and studio set up.
• Different ways to apply paint, fusing options.
• How to achieve a smooth/textured surface.
• Stencilling
• Collage