Description
Are you intrigued or curious about encaustic painting, an ancient painting process using pigmented molten beeswax?Are you art enthusiast wanting to discover a new versatile creative process in an intimate studio setting?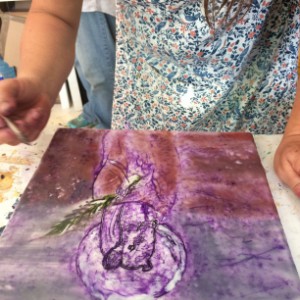 Then join me for a day introductory workshop, learning the ancient art of encaustic Painting in my studio located on the beautifully scenic shore of Lough Derg, close by Williamstown Harbour, an ideal backdrop for creating atmospheric artworks in a relax and inspiring environment.
During the day long workshop, you will have the opportunity to discover the fascinating art of Encaustics, an ancient painting process using molten beeswax, resins and natural pigments.
I will introduce you to the basic techniques of encaustic painting, sharing its spontaneous virtues of working with texture and colors and its versatility with building up layers. You will have the opportunity to learn easy and effective techniques in a fun and relax atmosphere and create beautiful artworks to bring home.
Using an experimental approach to explore technique and manipulate the paint, you will be able to create a beautiful artwork and embellish it using a wide range of techniques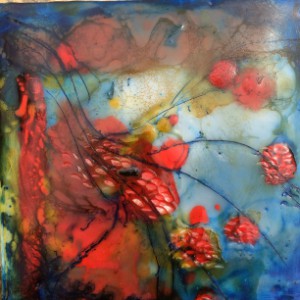 If you are you intrigued or curious about encaustic painting, or are an art enthusiast wanting to discover a new versatile creative process, then this is the workshop for you!

Date: Saturday 11th November
Time: 10-4pm
Location: My studio, whitegate, County Clare
Class limited to 4 participants for a personal and intimate studio setting experience.
Early booking recommended to avoid disappointment.
Cost: €120, including all materials and supports.
Art Classes for everyone: absolute beginners and developing artists alike.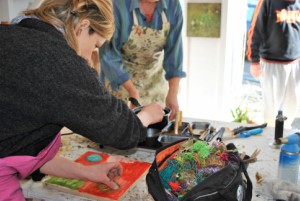 Testimonials from former participants:

Isabelle's encaustic workshops are fabulous. It was a whole new thing for me and I was left in no doubt about how to use the materials after Isabelle's excellent teaching. It was a real treat to spend the whole weekend working on my pieces in a beautiful environment. I'm so glad I invested in this workshop. I'm all ready to get going and set up my own encaustic area in my studio. Highly Recommended!
Kate B. July 2017
I had the pleasure of attending an Encaustic workshop with Isabelle and I'm not sure I can find the right words to explain how much I got out of it. It ticked all the boxes. I got to spend the whole day being creative. I got to watch an artist teach what she so clearly loves and that is good for the soul... you can so easily get swept away with Isabelle's excitement, enthusiasm and pure love for what she does and I got to be part of that, what a privilege. I got two beautiful encaustic pieces that I treasure. I got a new medium to play with, I made new friends and I most certainly got Isabelle's contact details so I can attend the next workshop. If you want to explore your creative side, I couldn't recommend this more. You have nothing to lose but you have all the above to gain.
Siobhan, workshop participant, 2016
Enquiries/booking: email the seller.
To see Isabelle's encaustic work, visit: www.isabellegaborit.com
Facebook page: www.facebook.com/isabelle.gaborit.artist/