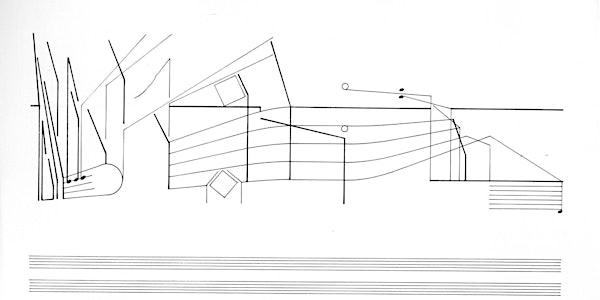 Introduction to graphic scores
Graphic Scores with Hazel Cardew. For any drawing ability, no knowledge of music scoring needed (in fact, the less you know, the better!)
About this event
Graphic scores are an experimental way of depicting or recording sound, movement or even stories.
They can work as a guide, instruction or map for performers to respond to. They can also be a response or recording of a place or action. It is a wonderfully creative way to convey sensory experiences – through drawing, anything can be notated.
In the 1950s, composers such as John Cage and Cornelius Cardew began experimenting with alternative ways of transcribing sound. The resulting scores were monochromatic, linear drawings that were more open to interpretation. Since then, contemporary artists have been taking this further into fields of photography, sculpture and performance to create scores.
"[Musical notation] didn't come into being of a moment but is the result of centuries of experimentation. It has never been quite satisfactory for the composer's purposes and therefore the experiment continues." - Ross Lee Finney in Notations.
This workshop aims to give an overview of what graphic scoring is and to provide you with the tools to create your own, with a focus on mark-making for sound. The first online workshop is an introduction to the world of graphic scoring. A week later, we will come back together to share our experiences and discuss our works in detail. Between online sessions, there will be time to explore our surroundings and create our own scores and drawings with support from guides and materials provided.
Introduction to graphic scores: 7 August, 11.00 am (roughly 45 mins)
Take a walk in your own time, with instructions and drawing materials: 7 - 14 August
Concluding meet-up/sharing results: 14 August, 11.00 am (roughly 45 mins)
Hazel Cardew currently lives and works in South West Wales and, supported by Arts Council Wales, Hazel will embark on her first international residency at Uillinn: West Cork Arts Centre, conducting remote activities this year and in person during summer 2022.
Her practice is rooted in drawing and focused on mark-making through minimalist aesthetics, finding harmony and balance within composition. Drawings maintain a sense of repetition, rhythm and space, with notable transitions into sculpture and installation. In her 3D drawing installations, her work pushes for a more immersive and dynamic experience of mark making.
Image Credits: Composer Cornelius Cardew