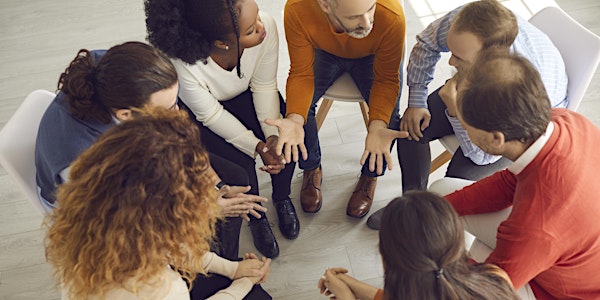 Introduction to mentoring workshop
Introduction to mentoring workshop Peer-to-peer Artists' Mentoring Programme 2021 @ the Centre for Creative Practices
About this event
Peer-to-peer Artists' Mentoring Programme 2021
@ the Centre for Creative Practices
21 September 2021
11am-1pm
Introduction to mentoring for artists
Peer-to-Peer Artists Mentoring scheme @CFCP is designed to support the professional development of migrant and culturally diverse artists of all disciplines. The Programme aims to help migrant and culturally diverse artists build tandems of two creative professionals – a mentee and the mentor who will work together for a set period of time to help the mentee improve their professional skills.
Mentoring can help artists define and achieve specific artistic goals; it can help manage a specific project, grow a professional network, and learn new techniques and skills – artistic or business-related, no matter what career stage.
Funding to cover the cost of the mentoring will be provided by CFCP and allocated based on the application process. All applicants will have to take part in the Introduction to Mentoring workshop.
Introduction to Mentoring workshop
To introduce the interested artists to the concept of mentoring and the roles of a mentor and mentee, CFCP will run a 2-hour online workshop that will outline the skills and approaches needed for mentoring to be successful for both parties.
After the workshop, the interested tandems will be invited to submit a short application outlining their mentoring needs and plans.
Five tandems will be accepted for the programme. The accepted tandems will be expected to hold between three and five mentoring sessions between 1st October and 10th December 2021. After each session, the mentor and mentee will submit their separate one-page reports evaluating the session, outlining the learning outcomes and defining action points for the mentee.
Funding
Each tandem will receive €500 for their participation that will be paid out in two instalments – 50% after being accepted for the Programme and 50% after submitting the final report.
The fee is supposed to cover the mentoring fee for the mentor and the travel expenses for the mentee. The tandem is responsible for any other expenses that arise in relation to the programme.
Speaker
Monika Sapielak is an award-winning independent Curator, Artistic Director, Producer, Event and Project Manager specialising in cultural diversity, social inclusion, equality, integration as well as participatory programmes, and creative and social entrepreneurship for a sustainable Arts Sector. Monika is a recipient of the Merit to Polish Culture awarded by the Ministry of Culture and National Heritage of the Republic of Poland and the Winner of the Arthur Guinness Fund.
She is Co-founder and CEO of the Centre for Creative Practices, which focuses on integrating, promoting and mentoring migrant and culturally diverse artists. She is the curator of its yearly flagship event called the New Voices of Ireland Series. www.cfcp.ie.
Monika is also a proficient Creative Mentor, Educator, Professional Development Training Facilitator, Speaker, Grant Proposals Writer and seasoned Grant Manager and Evaluator – local, national and EU levels.
Monika's mentoring and coaching expertise includes Personal and Career Development for Creative Practitioners, Curatorial Mentoring, Creative Start-Ups Support, Business Strategy for Creative Organisations, Grant writing, and EU Funding.