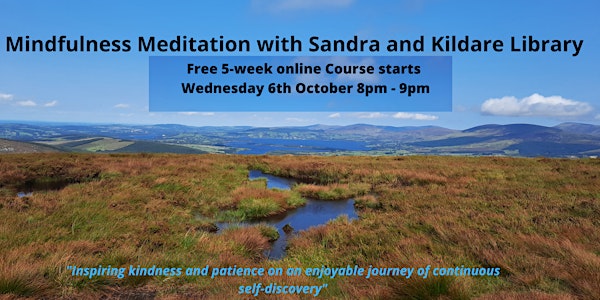 Introduction to Mindfulness and Meditation with Sandra - Free 5 week course
Returning for another 5-week course of Mindfulness Meditation with Sandra and Kildare Library - Wednesdays from 6th October 8 pm- 9pm
About this event
Sandra is a Mindfulness and Psychotherapy professional with over 30 years' experience and Kildare Library is delighted to partner with her again this autumn for a new free online course.
"I firmly believe in the power of Mindfulness to transform one's life. The positive effect of daily practice of Mindfulness has been evident in my ability to manage not just my chronic illness but also my positive interaction with the world at large. Life is indeed hard sometimes and we all need the right tools and techniques to survive and thrive in it.
What mindfulness does is bring us right into our experiences, moment by moment, in a way that is realistic and meaningful to whatever is going on in our lives."
Booking through Eventbrite