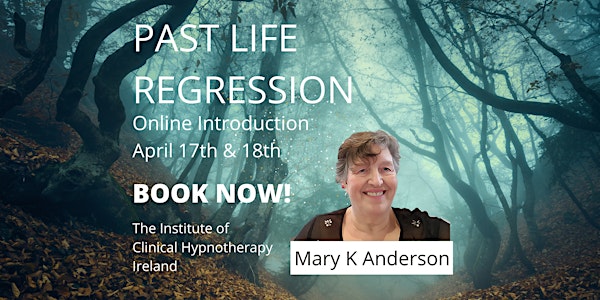 Introduction to Past life Regression.
The Institute of Clinical Hypnosis Ireland (ICHI) is a leading professional organisation of Clinical Hypnotherapists in Ireland. Our sister
Refund Policy
Contact the organiser to request a refund.
About this event
Experiencing Deja vu? Ever walked in a place and felt you had been there before? Have you ever met someone and felt like you were meeting an old, old friend. Do you have problems, emotional issues, or habits they just repeat and repeat and repeat? Do you have Chronic Health problems or Chronic Pain? Or are you just curious if this is all there is, Curious if you have ever lived before?
Past life Regression is a modality that can help you explore the spiritual, mental, emotional, and physical aspects of yourself in a different way. It can assist you to see things differently and move past issues and problems in your life. It can help remove blocks and patterns for resolution in your life. This workshop has seen many spontaneous resolutions of chronic emotional, spiritual, mental and physical problems
Are you curious, sceptic, believer, or undecided? Whatever your status this workshop can assist you in deciding if you have lived before, unblock and open pathways in your life, or just satisfy your curiosity.
Course Description
This workshop will assist participants in experiencing past life energy. Are past lives really real? We will discuss and debate the existence of past lives and the effect they have on current life experience. Discussion includes information on energy, quantum physics theory and their applications to the experience of past lives. Participants will experience various techniques to engage in Past Life Regression. Participants will experience two group regressions.
Sponsored by the Institute of Clinical Hypnotherapy Ireland (ICHI)
Facilitated by
Mary K Anderson-Master Hypnotherapist.-Past Life Regressionist