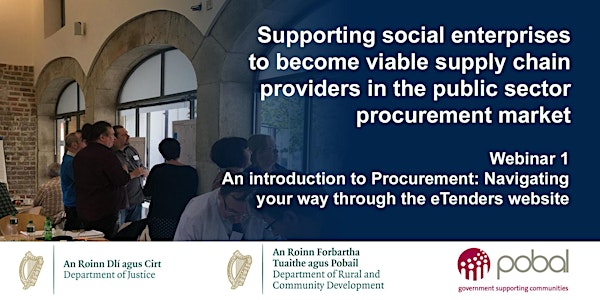 Introduction to procurement: navigating your way through eTenders website
This training session covers all the basics from what is public procurement to getting started on eTenders.
About this event
This training session is best suited for social enterprises with limited or no experience of tendering that want to win public contracts as a new way of growing their business. The basics of tendering and identifying new business opportunities will be explained. All participants will be encouraged to register correctly on eTenders, the Government's portal through which tender opportunities are published. Information sources will also be provided. After this session social enterprises will be in a position to start tendering.
More specifically, it will provide participants with an understanding of:
• What is public procurement?
• Common language/terminology used
• What is eTenders?
• How to set up an account?
• Log in process
• How eTenders operates:
o Knowing what to look for – matching your social enterprise's abilities to contract requirements
o How to apply filters to your searches
o How to get notifications/alerts
• Downloading tender documents
Training will be provided by BidServices. Participant numbers are limited, please sign up only if you are sure to attend.