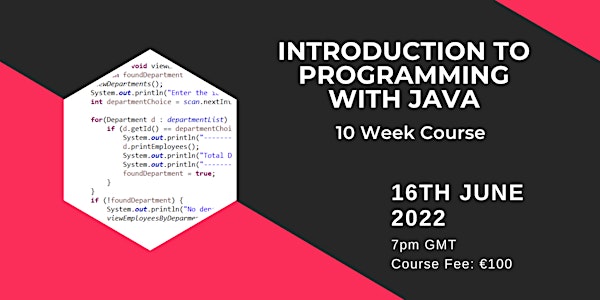 Introduction to Programming (10 week course)
A beginner's guide to programming with Java, delivered by an experienced college lecturer with over 20 years teaching experience.
Refund Policy
Refunds up to 7 days before event
About this event
Sample Material
Please check out one of my pre-recorded videos above- please note, that the course will be delivered live but the above video will give you an idea of my approach and teaching style.
Overview
Programming is a very abstract concept and can be very difficult for beginners to understand. As a teacher with over 20 years of experience in teaching programming to new students, I've devised an approach that I believe helps students to understand these concepts enabling them to build their knowledge of programming on strong foundations. Understanding is key, simply copying code "because that's what makes it work" isn't the best approach and I'll focus in on the why, as well as the how in this 10-week course.
I use a simple jigsaw analogy to explain the process of learning how to program - imagine you have been tasked with assembling a jigsaw puzzle without knowing what the final pattern or image should be? It would obviously be extremely difficult to do so, and learning how to program can be quite similar. Very often students are introduced to terms and complex ideas too soon and this can overwhelm students.
The way I teach programming is by using a layered approach in which I introduce some basic concepts and then once those concepts are understood, I build upon those foundations and guide the student through examples that are linked to the theory of programming.
Returning to the jigsaw analogy, each lesson will provide you with a piece of the puzzle and as we progress through the course, you will see how these pieces can connect together.
Lesson 1: Introduction to Programming & the Anatomy of a Java Program.
Lesson 2: Variables Part 1: Including User Input & Data Types
Lesson 3: Methods Part 1: Including Program Flow & Sequencing
Lesson 4: Variables Part 2: Including Local & Global Variables.
Lesson 5: Conditional Statements Part 1: Including Booleans.
Lesson 6: Arrays & Loops Part 1: Including For Loop
Lesson 7: Conditional Statements Part 2: Including Switch Statements
Lesson 8: Methods Part 2: Passing Values, Void & Returns.
Lesson 9: Arrays & Loops Part 2: Including While Loops & ArrayLists.
Lesson 10: Pulling it all Together: Vending Machine Software Simulation
All classes will be delivered live via Zoom. The last 10-15 minutes of each lesson will be reserved for troubleshooting code and questions & answers.
The course fee is €100 which is just €10 per lesson.
About Me
My name is Brendan Maguire and I'm an experienced programming & digital marketing lecturer from Dublin in Ireland with over 20 years of lecturing experience in colleges such as Blackrock Further Education Institute, Dublin Business School, Griffith College Dublin, Institute of Technology Tallaght (now TUD), the National College of Ireland and IBAT.