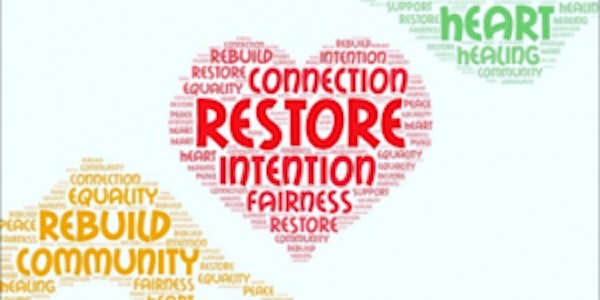 Introduction to Restorative Practices (Clondalkin)
When and where
Location
Áras Chrónáin Irish Cultural Centre Watery Lane Clondalkin 22 Dublin Ireland
Description
Looking to build on your positive communication skills? Seeking to improve relationships and wellbeing?
Searching for a proactive approach to model and create good behaviour?
Trying to increase your ability to get others to work WITH you?
Restorative Practices is a collaborative and proactive values based way of being that aims to build community and manage conflict by modelling positive behaviour.
This workshop is for you if you are interested in positive communication. It is ideal for anybody interested in improving relationships, and communicating in a positive way that promotes synergy, well-being and solutions.
During these two half day workshops we will introduce the restorative philosophy, values, skills and processes such as restorative language and questions.
We will explore how this explicit language can build connection, empathy and understanding.
We will consider our own values and practice within this restorative framework and get opportunities to practice our new skills.
This training is free but there are limited places available. Attendance to both days is required.